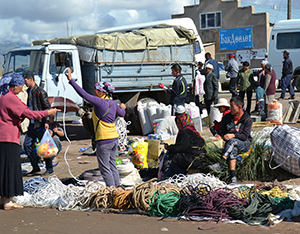 One of the most daunting challenges for the countries participating in the Central Asia Regional Economic Cooperation (CAREC) program is how to create decent, sustainable jobs.
For far too long, many CAREC countries have relied on the capital-intensive extractives sector to drive their economic growth. However, the slowing down of the global economic growth and reduced commodity prices resulted in the substantial increase in unemployment, especially among the youth.
But the improved connectivity of the region provides opportunities for small and medium-sized enterprises (SMEs) in CAREC countries to inject new life in these economies.
SMEs are the backbone of economic activity in Asia and the Pacific, and critical to sustain inclusive economic growth and social development. More than 96% of total enterprises in the region are SMEs, which account for about 42% of total GDP and employ 62% of the workforce.
Compared to the extractives industry, which even at its peak created few sustainable jobs, SMEs have enormous potential to fill CAREC's employment gap via labor-intensive sectors such as agriculture or tourism.
In agriculture, for instance, CAREC countries have huge markets for food and beverage export within and around the region. To seize this opportunity, however, there is an urgent need to boost productivity and improve the sanitary standards of the products as well as the certification mechanisms, to guarantee the safety and quality that will also facilitate their efficient cross-border movement. This would require upgrading the capacity of agriculture value chains supported by innovation in SMEs in agricultural and logistics businesses.
Shared prosperity
SME development is crucial for CAREC countries to diversify their economies, become more resilient to external shocks, and sustain growth. SMEs can take the lead in innovation – we all know that new business ventures always start small.
To realize their potential as drivers of growth and job creation, SMEs in CAREC should move beyond national borders. Regional economic integration efforts within CAREC have significantly improved both connectivity and trade potentials.
Such expectation for SMEs to take advantage of cross-border opportunities is natural and understandable, as cross-border SME development will surely result in shared prosperity for CAREC countries.
But this is easier said than done. SMEs are often not even aware of such opportunities. It is also not easy to learn laws, rules and regulations of the other countries, and just to register as a business in a neighboring country is often a mission (almost) impossible.
Some additional challenges make it even harder. Arranging a cross-border shipment can become a logistical nightmare. The same goes for customs clearance. And how can the seller get paid by the buyer, in what currency? Carrying out cross-currency financial transactions is also hard for many SMEs that lack such expertise.
As these issues are solved with the support of the governments, then access to finance can be the next challenge for SMEs. To improve SMEs access to finance, particularly to obtain loans against their cross-border business plans, both SMEs and financial institutions need to develop their capacities.
GMS success story
SMEs should be able to prepare credible business plans and cash flow projections to support their loan applications, while banks should also develop skills to appraise such business plans instead of relying on collaterals as the basis of their loans.
CAREC member countries can learn from the experience of other subregions. A good example within the Greater Mekong Subregion is an ADB-supported project to promote cross-border businesses between Guanxi Zhuang Autonomous Region in the People's Republic of China and Lang Son Province of Viet Nam.
The project aims to boost economic growth of both sides of the border through enhanced SME businesses between Guangxi and Lang Son via cross-border trade and investment, as well as establishing cross-border special economic zones. This will be achieved by SME-friendly initiatives such as creating border trade centers, providing business development services, and developing e-commerce as the trading platform.
Support for logistics and financial settlements is expected to help overcome some perennial setbacks, and a loan facility will extend credit to eligible SMEs. Cross-border labor mobility will be facilitated by a focus on skills development, so labor flows can respond to SME demand.
A key feature of this project is the idea of shared prosperity. While the ADB loan is extended to Guangxi and the credit facility will be made available through banks there, the enhanced access to financing can benefit SMEs from both sides.
ADB is eager to support cross-border SME development in CAREC countries as an honest broker for regional economic cooperation and integration. ADB also hopes that the efforts being made in other regions will provide CAREC countries with good ideas for their future development through enhanced regional cooperation.
This article was first published by ADB Development Blog.