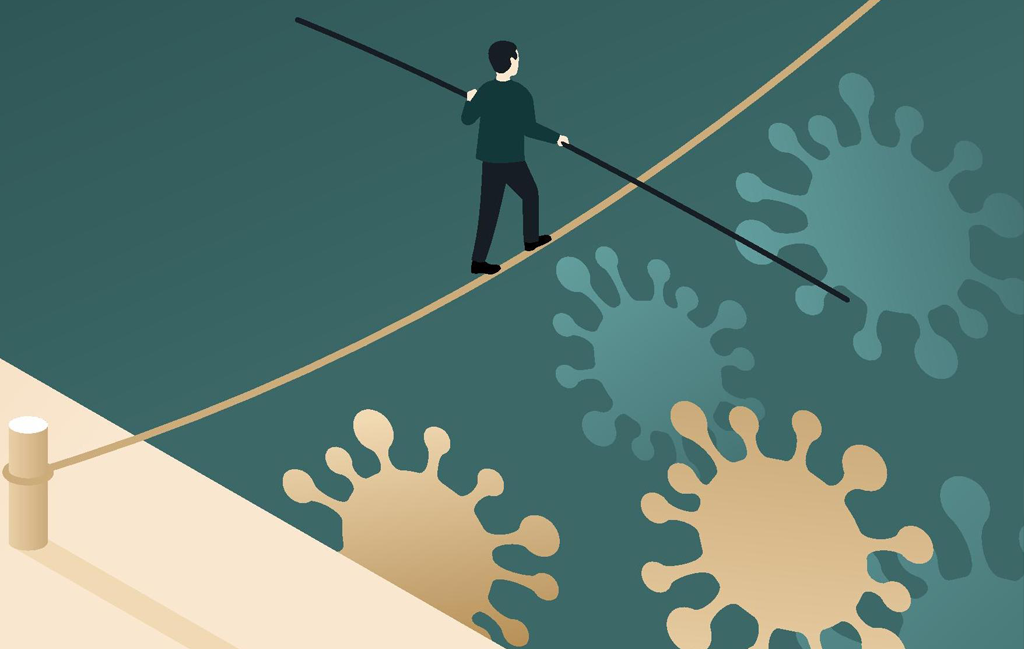 The economic impact of the coronavirus disease (COVID-19) pandemic in Asia highlights the importance of entrenching longer-term sustainability and economic resilience into the recovery process. The macroeconomic effects of the pandemic, as well as the impact on firms and households in Asia, are featured in a new ADBI edited book, COVID-19 Impacts and Policy Options: An Asian Perspective.1 The book also advocates a future direction of policy on competitiveness and productivity gains underpinned by further enhancement of the digital economy in the region and a policy agenda focused on sustainable development. Central to this agenda includes coordinated and targeted responses to mounting climate risks and measures for addressing poverty and inequality. In addition, harnessing digitalization to drive sustainable economic growth, productivity, human capital development, and financial inclusion will be an especially important post-pandemic policy priority.
The pandemic abruptly reduced economic activity in Asia, with consumption and investment falling due to domestic lockdowns and the global recession and economic growth contracting in 2020 in all Asian regions apart from East Asia (see Figure 1). Aggressive testing and contact tracing helping to mitigate the extent of the turmoil in East Asia. High uncertainty plus weak consumer and business sentiment prevailed during 2020, with the level of gross domestic product (GDP) shifting to a lower trajectory.
Economic growth for 2021 is forecasted by the Asian Development Bank (ADB) to expand by 7.1% in its September 2021 Asian Development Outlook Update for developing Asia, albeit with some cross-regional heterogeneity, while tourism-dependent Pacific island economies are forecasted to experience a further contraction in growth in 2021. Exports began to recover in 2021 as the pandemic became more contained (see Figure 2), with supply chains repairing, while economic activity and growth were also supported by the roll-out of vaccines. Export volumes from developing Asia during the first half of 2021 have exceeded their pre-pandemic levels. Many developing Asian economies have been able to capitalize on rising global demand during 2021, particularly from advanced economies. These developments have also been underpinned by effective fiscal and monetary policy responses to the pandemic in the region, which have helped to stabilize financial markets. However, the positive effects are weighed against country-specific factors related to the slow deployment of the vaccine and renewed waves of COVID-19 infections.
Figure 1. GDP growth recovery in 2021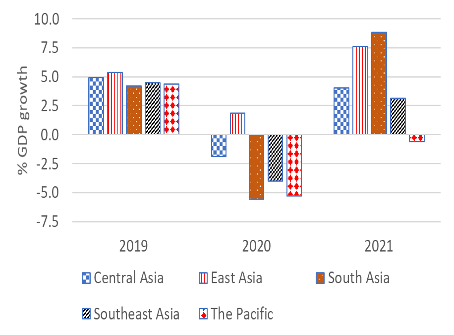 Note: Annual GDP growth rates are reported with forecasts for 2021.
Source: ADB. Asian Development Outlook Update, September 2021.
Figure 2. Trade rebound in 2021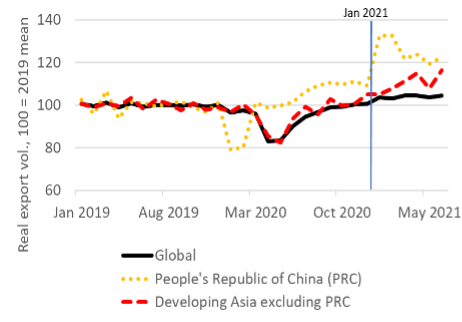 Source: ADB. Asian Development Outlook Update, September 2021.
On firms, while Asian micro, small, and medium-sized enterprises (MSMEs) experienced disproportionately negative effects during 2020, the outlook is positive overall with firms' business models demonstrating flexibility. This is closely related to the accelerated adoption of digital solutions by firms in the face of lockdown and social distancing constraints, as well as other work-from-home arrangements. With businesses and consumers in Asia already very well accustomed to the digital economy and operating in a digital world, notably in the area of digital payment systems, the region was already well placed to embrace an acceleration in digitalized processes. The increased use of fintech during the pandemic was an important aspect in enabling many MSMEs to remain economically viable, with financial services being faster, more efficient and cheaper than traditional banking. Moreover, as well as targeted government support, P2P lending and crowdfunding have been important sources of finance for MSMEs during the pandemic.
On pandemic-affected households in Asia, the ADBI book highlights that over one-quarter of children who stopped attending school due to the pandemic could not fully participate in online learning programs due to weak or insufficient internet connections and a lack of digital devices, which points to the need for increased infrastructure investment in this area. In addition, for vulnerable households, the COVID-19 episode has shown that social security protection needs to be bolstered in order to provide an appropriate shock absorber to the negative economic effects of the pandemic and limit the effect of unemployment. Crucially, this should also be related to enhancements to digital financial services infrastructure that would permit digital transfers. In addition, digital financial inclusion has helped to provide households with access to financial services in an efficient manner, mitigating the economic ramifications of COVID-19. The important role of fintech during the pandemic in providing respite to vulnerable groups needs to be highlighted, particularly due to its contribution to enhancing digital financial inclusion, lowering inequality, and stimulating more balanced economic growth.
Turning to the post-pandemic recovery, the ADBI book indicates that this needs to address the derailing of important progress by governments in the period before the pandemic on policies to address inequality, poverty, and climate change. Extreme poverty in developing Asia has worsened due to COVID-19 (see Figure 3), while the Asia and Pacific region as a whole continues to dominate carbon dioxide emissions at the global level (see Figure 4). In addition, the provision of support to vulnerable groups, notably low-income households and MSMEs, should be central to policy efforts on inequality. A blueprint for the way ahead may lie in the United Nations' Sustainable Development Goals (SDGs), with Asia's progress needing to step up considerably in order to realize the SDG commitments by 2030. A green post-pandemic recovery, including through more efficient use of natural resources and reduced environmental risks, will help to promote economic growth gains that are sustainable, inclusive, and balanced.
Figure 3. Extreme poverty in developing Asia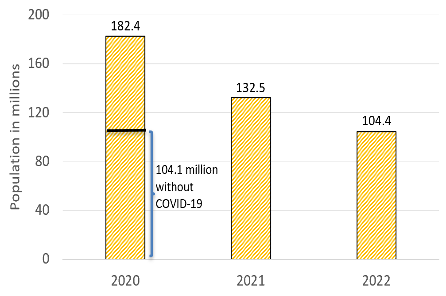 Note: Reported is the total number of the population in developing Asia below the $1.90 per day poverty line, with forecasts for 2021 and 2022.
Source: World Bank PovcalNet database and ADB Asian Development Outlook April 2021.
Figure 4. Global carbon dioxide emissions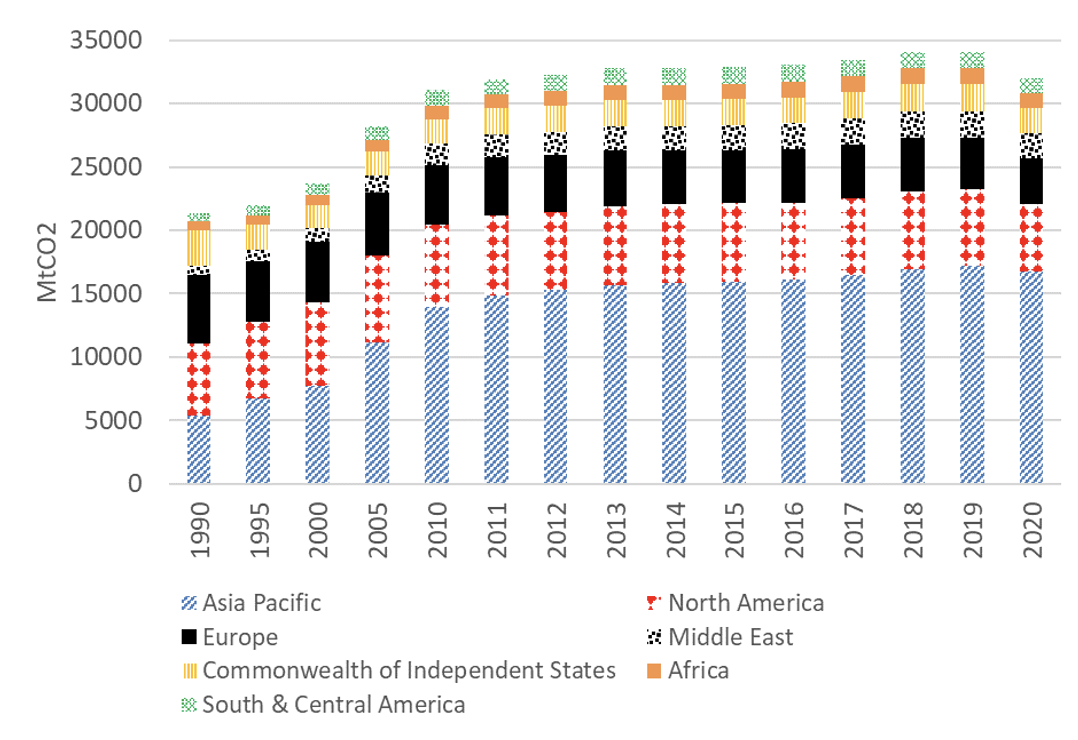 Note: Reported are carbon dioxide emissions in million metric tons.
Source: Statistica.
Going forward, while the deployment of effective vaccines will bolster the progression to a post-pandemic era, the policy agenda needs to place longer-term sustainability and resilience at the core, supported also by fiscal reform. Interconnectedness across Asian economies, particularly regarding supply chains and regional trade, has exposed economic vulnerabilities. In this context, further advances in technological development and automation, which surged due to COVID-19 will be important factors driving productivity and competitiveness in the long term. Related economic policy should be aimed at harnessing the gains from digitalization through appropriate investment in digital infrastructure, connectivity, and digital education, as well as labor market reform and training.
The cross-cutting nature of core development issues in Asia, such as exposure to climate change, as well as the strong regional economic interlinkages, means that a coordinated approach needs to be adopted across countries for sustainable recovery. Such coordination is crucial to support the economic recovery on issues related to public debt restructuring, including relief for vulnerable and poor countries, and repairing supply chains. In addition, greater efforts on multilateral coordination are needed to develop preventative approaches for other infectious diseases and viruses, such as those related to surveillance and early warning systems.
Read the book here.
[1] Beirne, J., P. J. Morgan, and T. Sonobe, eds. 2021. COVID-19 Impacts and Policy Options: An Asian Perspective. ADBI Press: Tokyo.