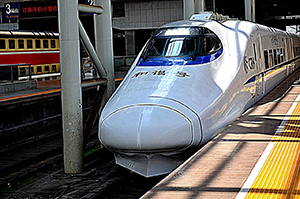 International capacity cooperation (国际产能合作 guoji channeng hezuo) was a 2014 addition to the "Go Global" policy suite that the People's Republic of China's (PRC) central bureaucracy expanded throughout 2016. It is the result of seeking a way forward from "new normal" low industrial growth rates and is a novel solution to the industrial capacity utilization problems the PRC has suffered since the 2008–2009 spending stimulus flooded into traditional industries. Steel, cement, aluminum, paper, glass, and everything from pork production to robots are in 2017 mired in cyclical overcapacity.
International capacity cooperation projects are supported through dedicated funds, such as the Silk Road Fund, the China-ASEAN Investment Cooperation Fund, the China-Latin American Fund, the China-Africa Industrial Cooperation Fund, and others. These funds range from $2 billion to $40 billion in capital stock. As infrastructure investment funds, they are vehicles for leveraging the PRC's foreign exchange reserves to offshore state-driven investment.
The People's Bank of China, State Administration of Foreign Exchange, and China Investment Corporation distribute funds through the policy banks, China Development Bank, Export Import Bank of China and Agricultural Development Bank of China, as well as the big four commercial banks, to the geographically aligned bilateral and multilateral financing vehicles.
These vehicles then direct state investment in industrial plants offshore. Projects exist or are planned for Africa, South America, Eurasia, Europe, and ASEAN, often promoted under the Belt and Road geoindustrial macrostrategy. Project investments are directly invested by state-owned enterprises, such as the China Railway Group and China Railway Rolling Stock Corporation in developing industrial economies, and the China Nuclear General Group and Hualong International Nuclear Power in developed economies. China National Cereals, Oils and Foodstuffs Corporation leads agroindustrial capacity cooperation in South American soy producing markets, while Yongkang Aiju Trade and Industry Cooperation has branched into the Eurasian Economic Union.
The first major capacity cooperation plan was issued to lower levels of government in May 2015 through the State Council's Guiding Opinions on the Promotion of International Capacity Cooperation and Equipment Manufacturing, aiming to build on the PRC's existing technological complementarities and industrial base to offshore sophisticated equipment plants. The document outlined 12 key sectors for cooperation: steel, nonferrous metals, construction materials, railways, electricity, chemicals, textiles, automotive, information and communications technology, engineering machinery, and aerospace and marine engineering. Fifteen months later, according to official Ministry of Commerce statistics, non-financial overseas direct investment stood at $130 billion for the first 3 quarters of 2016, with outward investment in the equipment manufacturing sector recording a 350% year-on-year increase.
Provincial governments are the principal state actors in the international capacity cooperation policy. The National Development and Reform Commission (gosplan) is coordinating capacity cooperation and has signed agreements with multiple provincial-level governments, including Hebei, Hubei, Shandong, Jiangxi, Anhui, Gansu, Yunnan, Jiangsu, Henan, Sichuan, Liaoning, and Guangxi, to develop cooperation mechanisms.
For example, Jiangsu is paired directly with the China Development Bank and matched with Indonesia, Cambodia, Ethiopia, and the Russian Federation to offshore industrial clusters in engineering machinery, rail transportation, new energy, shipbuilding, and marine engineering. Meanwhile, Gansu has been instructed to draw funds from the China-Africa Development Fund and to pair with Iran, Zimbabwe, Ghana, Indonesia, and Thailand to offshore production chains in mineral resources, textiles, non-ferrous metals, traditional energy, and photovoltaic energy.
Considering the policy banking infrastructure, and the geographies and industrial sectors targeted by central and provincial government policy, it is difficult to assert that state-owned enterprises are making firm-level decisions in their non-financial outward direct investment.
International capacity cooperation is the PRC's outward direct investment strategy. It is essentially a state-capital strategy designed to allow capital export and consumer goods imports without reciprocal opening of the PRC's capital and consumer markets to foreign competition. However, it is presented in the form of capital investment and technology transfer opportunities to middle- and low-income developing countries.
This has broad appeal for states in Africa and South America, and a more strategically balanced appeal for states along the New Silk Road in Central Asia, the Eurasian Economic Union, Iran, Turkey, and ultimately Europe.
However, taking whole industrial chains abroad simply offshores the PRC's project system and avoids domestic reform. The Keynesian capital-works driven model had demonstrable success in delivering steel, cement, and glass in the PRC's development drive. The result, however, was chronic industrial overcapacity and a local government debt burden that now totals over CNY18 trillion.
Extending the lifespan for reform in the PRC's industrial economy by offshoring production from industrial-policy-protected provinces into the global system is a novel solution to the country's industrial slowdown. However, the financial ramifications of continuing to avoid standard accounting and competition principles mean the bitter pill is yet to be swallowed.
But the policy of international capacity cooperation is not a sinecure for the PRC's industrial investment architecture. It extends the lifespan of the country's Keynesian project-system model of investment-driven industrial policy, but does not transform the PRC's domestic productive capacity or the state finance system upon which industrial production is dependent.
The underlying financial structure of the PRC's export of excess industrial capacity to strategic partners in Africa, Eurasia, and South America is essentially uncharted waters. However, as the PRC struggles to audit its own local government debt, there could be serious financial risks present in the export of industrial capacity.