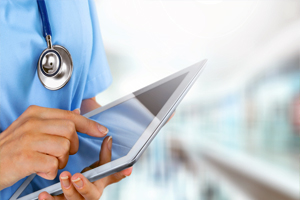 In October 2018, the world will commemorate the 40th anniversary of the seminal Declaration of Alma-Ata where the aspiration of "health care for all" was boldly declared. The realities have sadly fallen far short of the rhetoric—half the world lacks access to essential health services and 100 million people fall into financial catastrophe due to medical bills.
We live in a time in which new technologies are "fusing the physical, digital and biological worlds", framed as the Fourth Industrial Revolution by the World Economic Forum. While there are concerns about job losses to automation and machines, massive economic disruptions and skills obsolescence, the technologies driving the Fourth Industrial Revolution may be a godsend to the dream of universal health coverage.
Health care has traditionally been thought of as a "service" industry, with health-care costs mainly tied to labor and hence unavoidable and unchangeable to a large degree. Coupled with the reluctance of highly trained professionals (which health-care professionals are) to locate in rural and austere environs without substantial payments, it is unsurprising that the developing world struggles to fund and staff remote hospitals and clinics.
Can technology make a difference? Yes, technology is a powerful enabler of new care models. Let's imagine what can be.
Barefoot doctors 2.0: technology-driven primary care
In the 1960s, rural areas in the People's Republic of China (PRC) received an immense shot in the arm with the formal launch of the "barefoot doctors" scheme. Mao Zedong liberalized medical education and allowed villagers who graduated with only secondary school education to practice medicine after training at the county or community hospital for 3–6 months. Rural coverage rose to 90%, leading the World Health Organization (WHO) to laud the "barefoot doctors" scheme as a successful example of solving health-care worker shortages in developing countries. In fact, some have even highlighted the Chinese reforms as the inspiration for the Declaration of Alma-Ata.
These "barefoot doctors" focused on immunization, maternal and child health including deliveries, and improvement of hygiene and sanitation. Dr. Zhang Zhaoyang, deputy director general of the PRC Department of Rural Health Management, in a 2008 WHO report was quoted as saying the "maternal mortality rate in rural China has decreased from 150 per 100,000 before 1949 to today's 41.3 per 100,000. The infant mortality rate for the same period has decreased from 200 per 1,000 to 18.6."
These are remarkable achievements and testament to what can be achieved with determination despite meager resources. In 2018, we can do much more. Imagine a villager as in the 1960s returning to her village after 6 months of medical and health training. But instead of being a lonely soldier in the battle against disease, she is a channel for the world's expertise. Armed with a smartphone and various diagnostic devices (all solar-powered), which plug into her phone, she confidently carries out her work, uploading photos and physiological data when uncertain and receiving guidance back almost instantaneously via an artificial intelligence (AI) based information system supporting human doctors.
Fourth Industrial Revolution health care
Pie in the sky? No. The technologies already exist. What are the critical ingredients of such an optimistic future? Electricity and internet connectivity are essential foundational pieces and the technologies to deliver these are already present. Bboxx has electrified the lives of a quarter of a million people in 35 countries, while Myanmar, one of the poorest countries in the world, has seen smartphone penetration jump to 80% from almost nothing in under a decade.
What about the medical technologies? Tytocare, an Israeli company has a suite of diagnostic equipment easily connected to one's phone to assess the heart, lungs, throat, etc. for primary care consults. Maternal assessments needing ultrasonography? A wind-up portable Doppler ultrasound machine has been developed in Nairobi already.
Enabling specialists to project their expertise is also crucial for universal health coverage. Teleradiology is foremost here and Lifetrack Medical Systems is a good example. The Filipino teleradiology software as a service company, winner of the award for Excellence in Disruptive Technologies at the 2018 Financial Times/International Finance Corporation Transformational Business Conference and Awards, offers technology enabling radiologists anywhere in the world, even with limited internet connectivity, to easily read and report images using consumer-grade hardware such as Apple's iPad or Microsoft's Surface Pro.
AI to remotely care for patients? Babylon Health is a leader in this field. In June, the company announced that its AI system had scored 81% in representative sample set of questions testing diagnostic skills from the membership exams of the Royal College of General Practitioners in the United Kingdom compared to 72% for real-life doctors. It has been deployed in Rwanda, serving 2 million citizens, and across multiple health systems in the United Kingdom, earning the endorsement of health secretary Matt Hancock. In Asia, Bot MD, a graduate of the American Y Combinator program, has launched an AI chatbot app for doctors in developing countries.
Critics will accuse techno-optimists of risking lives with unproven or immature technologies. Certainly the technology is young and will continue to evolve and improve. Certainly there will be missteps. But let us take off our rose-tinted glasses and not forget the world is in crisis now. The world is short an estimated 4.3 million doctors, and lives are lost every day to our inability to provide essential health services to half the world—a reality WHO Director-General Dr Tedros Adhanom Ghebreyesus describes as "unacceptable" and "unnecessary."
Every day, 15,000 children die. By embracing the potential of the technologies afforded by the Fourth Industrial Revolution, we can turn the rhetoric of "health care for all" into reality.