About Tristan Kenderdine
Tristan Kenderdine is Research Director at Future Risk and a PhD Candidate in political science and international relations at the Australian National University Crawford School of Public Policy.
Author Archive | Tristan Kenderdine
Economics, Environment, Finance sector development, Governance and public sector management, Industry and trade, Infrastructure, Regional cooperation and integration, Urban development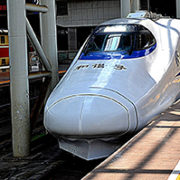 International capacity cooperation (国际产能合作guoji channeng hezuo) was a 2014 addition to the "Go Global" policy suite that the People's Republic of China's (PRC) central bureaucracy expanded throughout 2016. It is the result of seeking a way forward from "new normal" low industrial growth rates and is a novel solution to the industrial capacity utilization problems the PRC has suffered since the 2008–2009 spending stimulus flooded into traditional industries. Steel, cement, aluminum, paper, glass, and everything from pork production to robots are in 2017 mired in cyclical overcapacity.
Subscribe / Connect to Asia Pathways
Archives