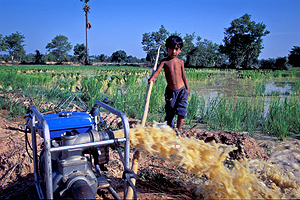 The green revolution has done wonders for Asia. Yields for most crops, particularly the region's main staple of rice, have doubled over recent decades. In the Lower Mekong Delta, considered to be Asia's rice bowl, the new technologies and crop strains that the green revolution brought were a big success.
Rice production in the Lower Mekong countries of Cambodia, Laos, Myanmar and Vietnam soared 68% between 1980 and 1995. During the same period, average yields more than doubled from their levels in the 1960s to about 3.5 tons per hectare. Total land area planted with rice also increased by around 25% to 16.3 million hectares between 1996 and 2005.
By the end of 2013, however, the gains seemed to have leveled off. Between 2006 and 2013, average yield growth slowed to 22% across all of the Lower Mekong countries except Cambodia, as growth in rice production slid to 36%.
The slower trends in yield and production growth were not unique to the Lower Mekong. They also applied to the rest of Asia for various reasons. Chief among them is that green revolution technologies, particularly new rice seed varieties, had become exhausted. Poor land and water quality were also culprits in the drop-off, along with inadequate farm management practices and the rapid conversion of farmland to non-agricultural use. Eroding profit margins due to a decline in the price of rice on global markets exacted a heavy toll as well.
Low productivity
There is reason for alarm at the change. Agriculture still provides 10% of Asia's value-added output and is an important source of employment as about 45% of jobs in Asia are in rural areas. With declining yields and production, this means that productivity, the value of output per worker, will decline further.
Already Asia's agricultural productivity is the second-lowest in the world, after sub-Saharan Africa. In 2013, agricultural value-added per worker in developing Asia was only $804, based on 2005 constant prices, a bit higher than sub-Saharan Africa's $705 but still lower than the $929 average of all low- and middle-income countries.
Declining agricultural productivity trends also imply low incomes for the people in Asia who depend on farming for their livelihoods. Poverty will also become more entrenched if agricultural incomes continue to decline. To illustrate this problem, currently in Cambodia about 41% of people are poor, as measured against a threshold income of $2 a day. In Laos this proportion is 62%.
Improved productivity is crucial if growth is to be sustained in the Lower Mekong's predominantly agrarian economies. In the past, increases in productivity enabled Lower Mekong countries to sustain growth in agriculture, as seen in the significant increases in yields and production that these countries enjoyed over the last three decades. However, with yields declining, the options for agriculture in the Lower Mekong are also getting limited. It seems that simply expanding yields and production will not be enough to turn the situation around permanently. It is time for concrete action to address the impediments to the growth of agriculture.
What is needed is aggressive policy reforms. Past reforms served the Lower Mekong's agricultural sector well by taking advantage of technologies that contributed to increased production. This time, implementing appropriate reforms can further unleash the sector's productivity potential as a veritable sub-regional food center.
One element of the reform agenda should be sustainable land management. Because the majority of farmers in the Lower Mekong own small land holdings, providing them with secured land tenure and property rights is crucial. In addition to more integrated land and water management, a multi-stakeholder approach for land-use planning is critical to enable farmers to design a plan to restore agricultural productivity and rural livelihoods.
Renewed investment in agriculture also matters, especially in view of limited resources and capacity constraints in the Lower Mekong. Priorities include promoting new technological innovations, cost-effective rural infrastructure for irrigation and market support, and better seed varieties. To address the shortage of critical skills in rural areas, investment in better knowledge management for farmers is also crucial.
Better links
In view of changing climate conditions and the consequent impact on agriculture, it is also important that better climate change mitigation and adaptation measures are implemented to reduce uncertainty in agricultural production systems. Now is the time to implement better regulations on the efficient use of fertilizers and irrigation and to develop national strategies to assess the impact of climate change on agriculture.
To take advantage of the increasing integration of markets in the region, the Lower Mekong's agricultural system should be able to better link farmers to markets and new technologies, and to knowledge flow. A case in point is the development of the supply chain in rice, a key industry that offers huge potential for Lower Mekong countries. While developing this supply chain will have a strong impact on the competitiveness of the agricultural sector, it will require measures to improve food standards, enhance logistics and remove non-tariff barriers to agricultural trade.
Finally, it is time to change the mindset of the institutions that have governed the agricultural sector over the past three decades. With the technologies thrown up by the green revolution fully integrated, it is fitting to look at how the sector can survive and flourish in the current environment of rapidly integrating markets. With the private sector taking a greater role in matching agricultural production with market demands and other new institutional setups as well as better technologies and targeted regulatory interventions to correct market failures, the pieces should be in place for reinvigorated productivity and an agricultural sector that is once more on the rise.
This article was first published by Nikkei Asian Review.