About Mercedita A. Sombilla
Mercedita A. Sombilla is director for agriculture, natural resources and environment at the Philippine National Economic and Development Authority.
Author Archive | Mercedita A. Sombilla
Agriculture and natural resources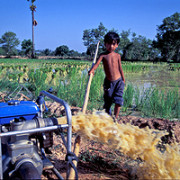 The green revolution has done wonders for Asia. Yields for most crops, particularly the region's main staple of rice, have doubled over recent decades. In the Lower Mekong Delta, considered to be Asia's rice bowl, the new technologies and crop strains that the green revolution brought were a big success.
Subscribe / Connect to Asia Pathways
Archives