About Yugo Inagaki
Yugo Inagaki is an alumnus of Keio University.
Author Archive | Yugo Inagaki
Economics, Energy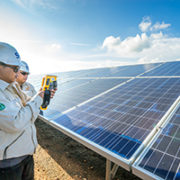 The solar photovoltaic energy market has seen huge growth in recent years. Unlike solar thermal energy, which harnesses heat from sunlight to generate electricity, solar photovoltaics or PV is a technology that converts sunlight directly into electricity. The annual worldwide solar PV electricity production increased from 4 terawatt hours (TWh) in 2005 to 247 TWh in 2015 (IEA 2017). In 2016, cumulative solar PV generated over 310 TWh, 26% higher than in 2015 and representing just over 1% of global power output.
Subscribe / Connect to Asia Pathways
Archives