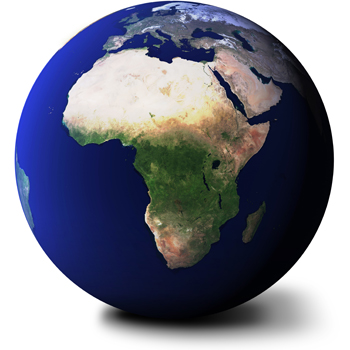 As economic power shifts from West to East, one of the key players affecting Asia's rise is Africa. But as is often the case with Africa, it is often overlooked. So much is written about the rise of the BRICS countries. Indonesia, Mexico, and Turkey have recently been added to the global growth trackers' lists. But what about Africa?
Opportunity in Africa
International Monetary Fund projections show that seven of the ten fastest growing economies are in Africa. According to global management consulting firm, McKinsey & Company, the rate of return on foreign investments in Africa has been higher than that of any other region. Africa is attracting record-breaking investments from around the world and some experts are comparing business opportunities there with those of the People's Republic of China (PRC) in the 1990s.
The PRC has had a hand in this growth. As the PRC evolves into a global leader flexing its economic muscle, Africa is one of its first true tests. Does the PRC have what it takes to lead across a range of industries and markets in Africa?
Africa is a mosaic of 54 nations reflecting stunning diversity in geography, culture and government. It's rife with challenges and opportunities—opportunities Western businesses concerned with short-term risk have been slow to embrace. But the PRC, as it often does, has taken a taken a long-term view of Africa. The PRC's multifaceted strategy in Africa— from building infrastructure to setting up media outlets—is aimed at building goodwill on the continent over time.
The PRC has been Africa's largest trading partner since 2009, growing dramatically in scale and complexity during the past few years. Fueled by the PRC's demand for Africa's natural resources, PRC–Africa trade reached $200 billion last year. The PRC is known for building African infrastructure—roads, ports, and dams—in exchange for oil and minerals. But as the PRC climbs the value chain, it has diversified its offerings to include logistics, real estate, light manufacturing, and a growing array of services.
The PRC's growing economic ties with the continent also pose challenges for African countries struggling to diversify their economies. Many observers believe that cheap Asian goods flooding African markets dampen investment in local industries while contributing to the continent's high youth unemployment rate. Moreover, the debate continues over how much of the PRC's quest for African natural resources helps the continent as Beijing initiates more government-to-government deals than bottom-up projects that would stimulate growth in Africa's private sector.
Recently the PRC has begun delivering education services, notably via the Confucius Institutes, through which the PRC promotes Chinese culture and language. Thirty-eight Confucius Institutes flourish in more than two dozen African nations. With one million Chinese people living and working across Africa, the PRC wants to foster positive feelings toward all things Chinese.
PRC soft power
Chinese companies also moved into other knowledge-intensive sectors, delivering an array of TV, radio, and print media services to African markets. Beijing recognizes the value of "soft power" as a means of advancing its economic agenda and it's expanding its media footprint in Africa.
The PRC's entry into Africa's media market began several years ago with Kenya's national papers publishing content from Xinhua News Agency, the official news agency of the PRC. In 2012, the PRC stepped up its media efforts by launching China Daily, its state-run English-language newspaper, based in Kenya and South Africa, along with China Central Television's launch of CCTV Africa, in Nairobi.
So far, Chinese media has not yet achieved either the cache or the viewership in Africa of more established players. This partly reflects production styles and content that have traditionally been aimed more at Chinese than at global audiences, an issue Chinese media has recognized and are trying to address. CCTV, for instance, recently hired popular Kenyan journalists and anchors to deliver its African newscasts, gaining credibility and viewership among local audiences due to this more locally relevant content.
Additional issues with African acceptance of the PRC's soft-power efforts center on a perception in Africa that Chinese media do not yet enjoy the independence from government control of the global media currently most popular in African markets: BBC, CCN, and Al Jazeera. This perception is leading to ambivalence and mistrust by local audiences toward Chinese media, something that the Chinese companies must address if they are going to penetrate African markets.
Winning hearts and minds stems from building trust with audiences, which affects not just perception of Chinese content but also acceptance of recently introduced web services. In a deal with France Telecom's Orange, Chinese-language Internet search provider Baidu will be pre-installed for Orange customers buying the inexpensive Chinese smartphones that are dominating African markets. There are early signs this pre-bundling may in fact be perceived as a downside rather than a benefit of Chinese smartphones.
Unless Chinese media and web services can be counted on to provide information about Beijing's ventures in Africa independently and accurately—presenting the PRC's improprieties and setbacks as well as successes—viewership will suffer and the "soft power" offensive will falter.
It is likely that Chinese media will continue to experiment and find ways to appeal to African subscribers, like hiring more local talent. In the meantime, African audiences will benefit from alternative news sources and another point-of-view, even if it is evolving. Succeeding in African media markets is crucial to the PRC's aspiration to be a global player.