About Dave Robbins
Dave Robbins specializes in developing city-wide septage management programs in Asia and works with local governments in implementing collection, transportation, treatment, and reuse programs for fecal waste. He is currently conducting research into the economic spillover effects of the co-treatment of septage and municipal wastewater in the Philippines.
Author Archive | Dave Robbins
Environment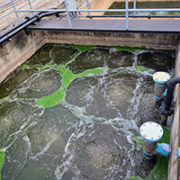 The City Development Initiative for Asia, the Asian Development Bank, other multilateral agencies, and national governments are funding sewerage systems for medium and large cities throughout Asia. Even at "full" sewerage coverage, cities often find that some, if not many, buildings are still reliant on septic tanks, pits, or other onsite systems. For cities with or that are planning sewerage systems, co-treatment may enable citywide sanitation by minimizing the need for standalone fecal sludge treatment plants.
Subscribe / Connect to Asia Pathways
Archives