About Ashley Muspratt
Ashley Muspratt is a fecal sludge management expert with significant experience in resource recovery and treatment processes. She founded Pivot, a pioneering waste-to-energy company in Rwanda and now leads 30 Degrees, a sanitation advisory firm specializing in design, engineering, and commissioning services.
Author Archive | Ashley Muspratt
Environment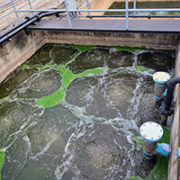 The City Development Initiative for Asia, the Asian Development Bank, other multilateral agencies, and national governments are funding sewerage systems for medium and large cities throughout Asia. Even at "full" sewerage coverage, cities often find that some, if not many, buildings are still reliant on septic tanks, pits, or other onsite systems. For cities with or that are planning sewerage systems, co-treatment may enable citywide sanitation by minimizing the need for standalone fecal sludge treatment plants.
Subscribe / Connect to Asia Pathways
Archives