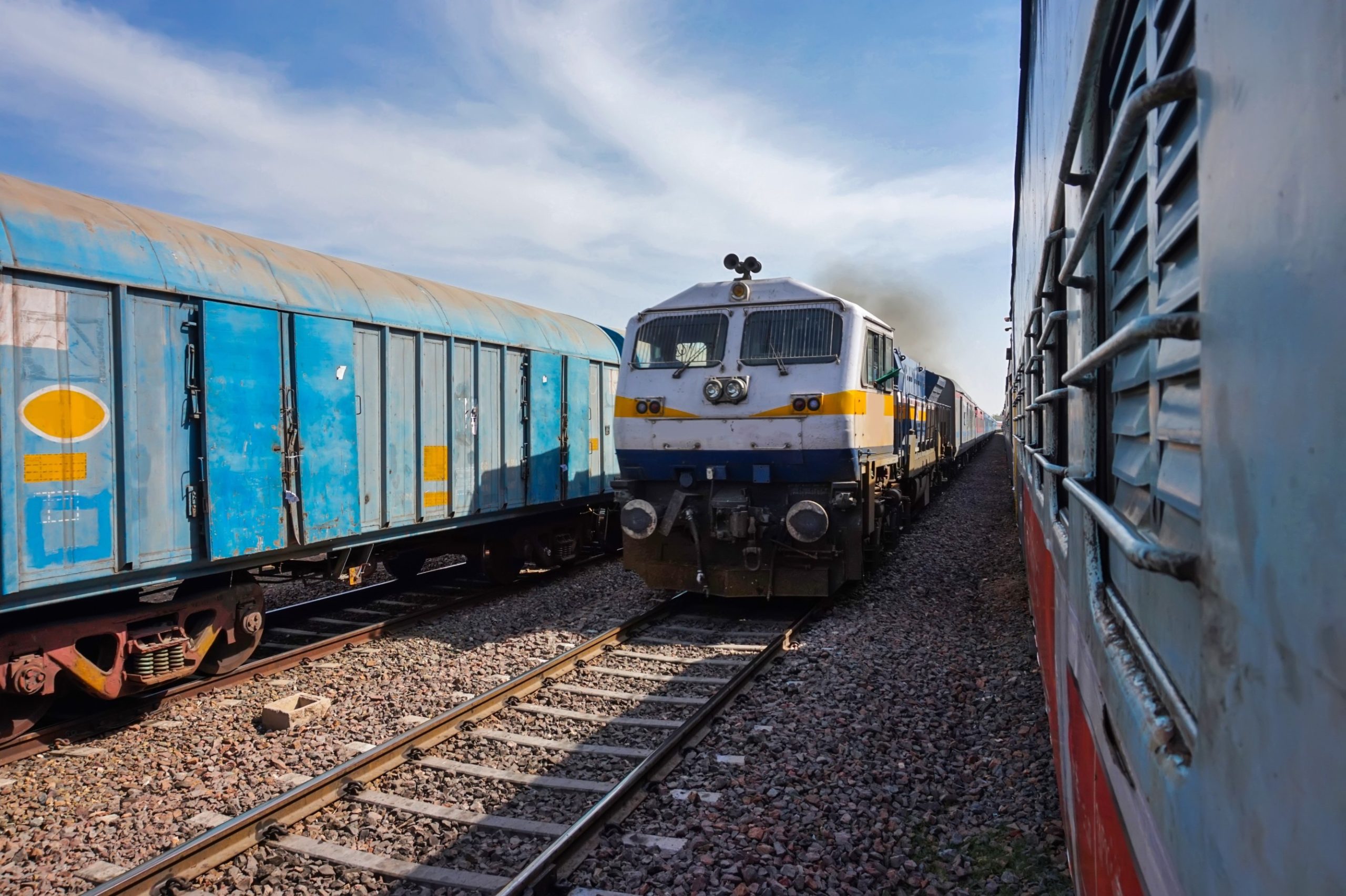 India's Act East Policy is a diplomatic initiative aimed at promoting cultural and economic collaboration with other countries in the region. Strengthening connectivity is also one of the central areas of focus in the country's bilateral cooperation with its neighbors (MEA 2015). With Bangladesh, this includes measures aimed at improving rail connectivity and enhancing bilateral trade using railway links.
Overland trade between India and Bangladesh
India and Bangladesh share a land border of more than 4,000 kilometers, making it the fifth-longest land border in the world. Between the two countries, there are 34 land customs stations (LCS), 2 integrated check posts (ICP), and 5 railway interchange points through which cross-border trade operates. Although there are multiple LCS in operation, the majority of the overland movement of goods is transported through the Benapole-Petrapole ICP. This is because it is the only land port that facilitates the import and export of almost all commodities, except for a few regulated by the customs agencies, making it one of the busiest and most congested land ports. A recent study by the World Bank reports that it takes 138 hours to move a truck from the Indian side to the Bangladesh side through the ICP (Dappe and Kunaka 2021).
Freight movement has considerably increased in other LCS, such as the Ghojadonga-Bhomra, Mahadipur-Sonamasjid, and Changrabandha-Burimari LCS. Hence, there is a growing understanding among stakeholders of the need to improve the infrastructure at these LCS (LPAI 2020).
Recent trends in railway logistics between India and Bangladesh
In recent years, besides the trade through land ports, there has been a positive shift in the movement of cross-border freight through railway interchange points. With the onset of the coronavirus disease (COVID-19), most of the LCS were closed for freight movements. Both the railways of India and Bangladesh made efforts to continue bilateral trade through the five railway interchange points. As a result, bilateral trade through railways has doubled compared to pre-pandemic times. Table 1 shows the growth in trade through railways.
Table 1: Number of Freight Trains and Wagons Transported from India to Bangladesh

Note: A rake is a formation of coupled wagons that makes up a train. Freight rakes transported from India to Bangladesh usually consist of 42 wagons.
Source: Ministry of Railways, India and Bangladesh.
Apart from the growth in the volume of cargo handled by railways, there have been three important developments in cross-border rail logistics. Previously, railways were only handling bulk cargo, such as food grains, project cargo, fly ash, maize, limestone, and gypsum. With the closure or limited operation of the land ports during the COVID-19 pandemic, there was increasing demand for the transport of goods through railways, leading to diversification of the transported commodities. Freight trains started transporting essential commodities such as spices, cotton, sugar, fast-moving consumer goods, raw materials for industry, automobiles, passenger cars, and tractors.
Secondly, following the success of the movement of goods by rail, a parcel train service was introduced between India and Bangladesh. Parcel trains have a low carrying capacity, which has opened up opportunities for traders to export smaller quantities of goods, including high-value ones such as chemicals, textiles, cotton, cotton yarn, fabric, fast-moving consumer goods, and other inputs for the garment industry.
Lastly, in addition to the traditional freight train service and the parcel train service, a container train service and automobile cargo movement were introduced. These measures have helped railways become a reliable alternative for providing safe and fast logistical solutions to promote bilateral trade between the two countries (HCI, Dhaka 2020).
Another factor that has given rail an unusual edge over road for cross-border trade is that goods transported by trucks have to be trans-shipped onto other trucks at the border, whereas freight trains can move much closer to their final destinations inside Bangladesh's territory.
While maritime transport is still the dominant mode of transport for international trade, due to port congestion and massive shipping delays, rail is an emerging alternative for some regions. In the last 2 years, rail cargo movement between the People's Republic of China and Europe has grown by 176% (Almendral 2021). Between India and Bangladesh, cargo movement from 2019 to 2020 grew by over 130% (see Table 1). There has also been a huge shift in the transport of goods from road to rail in sectors such as automobiles. Today the majority of automobile cargo from India to Bangladesh is transported by rail, whereas it was negligible just 2 years ago (Ministry of Railways 2021). In addition, the introduction of container train services has opened up huge scope for the transport of high-value goods.
India's exports to Bangladesh jumped substantially from $9.6 billion in 2020/21 to $14.5 billion in 2021/22 (Ministry of Commerce 2022), and Bangladesh has emerged as India's fourth-largest export destination in 2022. The transport of goods through railways has been a positive contribution in achieving this surge in bilateral trade between the two countries.
Table 2 shows the recent trend in bilateral trade between India and Bangladesh.
Table 2: Bilateral Trade between India and Bangladesh

Source: Ministry of Commerce, Government of India. Trade Statistics.
Implications of growth in bilateral rail logistics
In addition to facilitating business and promoting trade, the growth in bilateral trade from the utilization of rail logistics has the potential to alter the cross-border logistics scenario. If the trend continues, we could see major implications for growth in cross-border rail logistics:
A reduction in congestion at the Benapole-Petrapole ICP;
A reduction in the transportation lead time;
The availability of alternatives to reduce port congestion and shipping delays;
The movement of rail cargo further beyond the border closer to the destination, as compared to the trans-shipment of trucks at the border, leading to lower transportation costs;
Energy efficiency: with the same amount of energy, the volumes transported by rail are much higher compared to other modes (Smil 2020); and
Improvement over the uncertainty of road transport, which experiences issues related to high tolls, multiple local tax administrations, and lack of safety or likelihood of accidents.
The need for complementary policy intervention
Supporting complementary policy measures will be necessary to sustain growth and reap the wider economic benefits of the growth in rail logistics. Such measures include the following:
Establishing rail-based inland container depots in Bangladesh;
Creating additional capacity to handle freight cargo in the Bangladesh Railway system;
Creating a mechanism to enhance working hours to be 24/7;
Encouraging private sector participation both in creating infrastructure and managing logistics operations;
Adopting digital and sustainable trade facilitation;
Leveraging technology for the simplification of procedures for seamless customs facilitation;
Establishing a mechanism to enhance customs cooperation for cross-border trade at land ports;
Exploring uniform applications by both parties on the alignment of working days and hours; mutual recognition of inspections, testing, and certification; harmonization of standards, development, and the sharing of common facilities; joint controls; and the establishment of one-stop border control; and
On the Indian side, the network of inland container depots can be utilized for customs clearance even for non-containerized cargo, which will help in reducing congestion at the border stations.
Historically, railways have played a major role in integrating the countries of South Asia and contributed significantly to increasing trade. Working together to integrate the railway networks of India and Bangladesh to provide cross-border logistics solutions has huge potential for delivering economic benefits to both countries. In the future, rail logistics can meaningfully supplement and even emerge as a consequential alternative to road and maritime trade in the region. For this to happen, consistent and comprehensive efforts are necessary to help enhance cross-border trade through rail.
References
Almendral, A. 2021. The China-Europe Rail Freight Boom Sidesteps Shipping Chaos But Not Border Disputes. 22 December.
Dappe, M. H., and C. Kunaka (eds). 2021. Connecting to Thrive: Challenges and Opportunities of Transport Integration in Eastern South Asia. World Bank Publications.
High Commission of India (HCI), Dhaka. 2020. Parcel Train Service, Press Release. 13 July.
Landport Authority of India (LPAI). 2020. Annual Report 2019-20. Department of Border Management, Ministry of Home Affairs, Government of India.
Ministry of Commerce. Trade Statistics. Government of India.
Ministry of External Affairs (MEA). 2015. Act East Policy. Press Information Bureau, Government of India. 23 December.
Ministry of Railways. Trade Statistics. Government of India.
Smil, V. 2020. Numbers Don't Lie. Penguin.