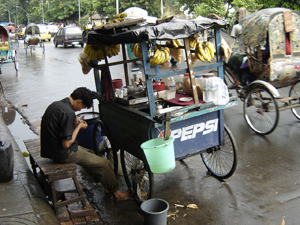 Bangladesh's economy has recorded remarkable economic performance in the new millennium, though its per capita income has remained low. Even more spectacular has been the steady improvement in its levels of many social development outcomes. Popular commentaries have drawn comparisons with India and Pakistan in highlighting the significance of Bangladesh's development achievements. This phenomenon has been termed as the "Bangladesh conundrum," and has received extensive coverage in international media outlets, such as the New York Times, the Economist and the Wall Street Journal.
But is Bangladesh's social progress surprising, and if so, then in what respect and to what extent? To answer this question, we must systematically investigate the country's path to development. Bangladesh's achievements in several dimensions of social development are indeed surprising when compared to other economies at similar levels of economic development. In a research paper published last month in World Development (Asadullah, Savoia, and Mahmud 2014), we present these findings by drawing upon data on Bangladesh and over 100 other developing countries for the past 4 decades (1971–2010).
Exceptional in many ways
Using regression analysis, we document that Bangladesh has performed better compared to other countries at the same level of per capita income on a number of social development dimensions: female education, child health, and fertility.
Starting with fertility indicators, Bangladesh has, since the 1970s, managed to reverse its abnormally high record of average total births per woman—and since the 1980s, it has even outperformed countries with similar levels of income. Between 1980 and 2010, Bangladesh's ranking for fertility data within the developing world improved rapidly compared to only modest improvements by Pakistan and India. Fertility also declined progressively because it was paralleled by an exceptional increase in contraception prevalence and we estimate that over 2006–2010, women in Bangladesh were giving birth to an average of two fewer children than in other economies at the same level of income. Between 1980 and 2010, the share of women using contraception jumped from 10% to nearly 60%, while the 2005 figures for Pakistan and India were 30% and 53%, respectively.
In terms of health outcomes, Bangladesh was among the losers in child mortality reduction in the 1970s and 1980s, but reversed this record in the 1990s and 2000s. Excess infant and under-five mortality disappeared before the 1990s, well before the country saw a large-scale reduction in poverty. The immunization rate increased from 1% in the early 1980s to over 70% within 10 years, a development described by the United Nations Children's Fund (UNICEF) as a near miracle. Also according to our estimates, during 2006–2010, Bangladesh was immunizing 17% more children against measles than other economies at the same level of income. Similarly, gender disadvantage in primary and secondary education disappeared by the mid-1990s. Since the late 1990s, Bangladesh has outperformed other countries at a similar level of economic development in terms of female primary and secondary schooling, although it still lags behind at the tertiary level. Our estimates show that between 2006 and 2010, Bangladesh was enrolling over 7% more girls in primary education than other economies at the same level of income.
Overall, the empirical evidence shows a clear trend: that Bangladesh has steadily progressed over the past 4 decades, transforming itself from a laggard into a leader. Today, the country outperforms on multiple social development indicators, given its level of economic development. Considering its unfavorable initial conditions (e.g., devastation caused by the 1971 war and the famine of 1974) and the existing challenges of poor public governance and political instability, Bangladesh's achievements in social development are truly surprising.
Where does the exceptionality come from?
Further econometric investigation of Bangladesh in comparison with other developing countries over a long period of time (1970–2010) helps understand why its development progress is superior to other economies at similar levels of national income.
Our results find limited evidence that such progress simply came as a result of economic growth, i.e., through income-mediated channels. We also find no evidence that development was led by public expenditure channels (i.e., driven by foreign aid or government health and education spending). On the contrary, Bangladesh's progress is exceptional because it was achieved despite low budgetary allocations, low levels of physical inputs, and widespread poverty, and in some cases, within very short time periods. Our research rather highlights three concurrent factors that may have simultaneously been the cause of Bangladesh's exceptional development progress.
First, development policy exploited the complementarities between public policies and nongovernment organization (NGO) initiatives. Including various nongovernment stakeholders (including religious bodies, in the case of secondary education) as part of the development strategy was instrumental to the social progress achieved, as it complemented public education and health interventions. In partnership with the government and with the support from international development and aid agencies, NGOs played a significant role in reducing fertility and child mortality through the simultaneous use of low-cost solutions and social awareness campaigns.
Second, the development strategy benefited from the synergies among the dimensions of social development. Health and education indicators improved at varying paces and different intervals creating virtuous interaction effects between different social indicators. The fertility decline began during the 1980s, when income and schooling levels were very low. This set the foundation for later progress in education and health. Equally, gender parity in schooling was triggered by the introduction of demand-side incentive schemes.
Third, long-term factors, such as geography as well as historical and cultural heritage, might have favorably affected the context of development policy in Bangladesh. Regarding the role of geography, the proximity of settlements, for instance, facilitated the easy adoption of low-cost solutions and the quick spread of good practices. Historical and cultural heritage also played a role in shaping and consolidating the elite's political commitment to social development. Such a role has been reflected in policy sequencing, which has seen consistency across various political regimes over time. Since independence, successive governments in Bangladesh have recognized the need for controlling population growth, the importance of female education, and the role of child and maternal immunization. Similarly, the prioritizing of women and gender balance, scaling up of innovation, and focus on resilience to natural disasters have also been significant.
Moving forward
A country that was once famously dubbed "the test case for development" is today an important example for others within the developing world. The progress achieved over the last 3 decades could place Bangladesh on a path of sustained growth, eventually starting a virtuous cycle whereby higher human and social development is followed by higher growth, igniting a positive feedback loop.
However, ineffective public governance, dysfunctional institutions, and limited budgetary allocations could prove to be obstacles. As Bangladesh's gains from low-cost solutions are reaped, further progress will increasingly depend on higher public social spending and improvement in service delivery systems. Further reductions in child and maternal mortality will require more expensive interventions and the provision of relatively costly health services. While good progress has been made in improving the school participation rate, there are now serious concerns about the quality of education. At the same time, improvements in public services delivery across social sectors will be necessary, requiring governance reforms aimed at improving mechanisms for public sector efficiency, transparency, and accountability.
To consolidate the gains made in social development so far and to make further improvements, the challenge for Bangladesh lies in addressing governance failures.
_____
References:
Asadullah, M. N., A. Savoia, and M. Wahiduddin. 2014. Paths to Development: Is there a Bangladesh Surprise? World Development 62 (October): 138–154.
Photo: "Mobile tea stall". Licensed under Creative Commons Attribution 2.5 via Wikimedia Commons