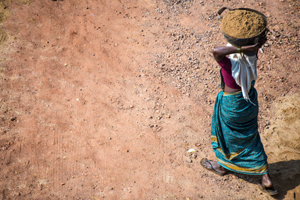 Elections are complex affairs and the factors that give rise to a change of government normally include the three Ps of personalities, policies, and past performance. This is certainly true of the recent election in India. The Congress Party, led by the Gandhi dynasty, lost control of the government to a resurgent Bharatiya Janata Party headed by the former chief minister of Gujarat state, Narendra Modi. A key question is whether the policies of inclusion, pursued by Congress Party for a decade, were rejected by the electorate.
Congress Party and social inclusion
Congress Party has always leaned left in economic policy. From independence in 1947 to the mid-1980s it pursued a socialist strategy through state-owned industrial enterprises and the nationalization of banks and other firms. This approach gave way to greater market orientation—as it did in most of the developing world—from the late 1980s. In the decade between its return to power in 2004 and the recent defeat, Congress Party has combined market orientation in economic policy at the top with inclusive social policy to support the poor at the bottom. It is a standard recipe for inclusive growth. The approach stems from a belief that growth alone is not enough to improve the plight of the poor. In India, it was supported by the experience of the late 1990s and early 2000s when moderate to high economic growth was mostly jobless.
The economic record of Congress Party during the past decade was impressive—gross domestic product expanded by an annual average of 7.8% in 2004–2012 including four years above 9%. There was talk of India's growth rate surpassing that of the People's Republic of China (PRC). The share of people living below the national poverty line fell from 37% to 22% in 2005–2012. How much of that reduction was due to growth alone and how much was due to programs targeting of the poor is hard to discern—by the experts as well as the electorate.1
Congress Party pursued a program of inclusive growth through a rights-based approach to social protection. The idea was not merely to introduce pro-poor programs but to enshrine those programs in legal guarantees. The poor were given a right to assistance and the government was legally charged to provide it. The signature law was the Mahatma Gandhi National Rural Employment Guarantee Act, 2005, which guaranteed poor rural households 100 days of work on public works infrastructure. It was a social support program that was not a direct welfare handout but offered income, through wages, in exchange for work. Each year 70 million to 80 million people avail of the program.2
Subsequent initiatives used a similar approach. The National Food Security Act, 2013, which is also known as the Right to Food Act, guarantees 75% of the rural population and 50% of the urban population a monthly ration of five kilograms of rice, wheat or coarse cereals at a heavily subsidized price. It is a massive social protection program designed to benefit 820 million people (two-thirds of the population) at a cost to the treasury of about $20 billion in FY 2013–2014.3 The program is designed to tackle widespread under-nutrition that affects the population, especially women and children. Congress Party also passed the Right to Education Act, 2009, which guarantees universal education for those 6–14 years of age and builds on existing provisions of the constitution and other laws.
Economically and socially these programs protect the poor and vulnerable. They can also contribute to growth by strengthening human capital. Politically, their wide coverage should secure the support of the electorate and help a government retain power. In 2008, the employment guarantee program and the government's pro-poor stance probably did help it win re-election—but a booming economy and clear leadership likely played more significant roles.
Causes of electoral defeat
The recent term in office proved more difficult. While the government expanded its rights based social protection agenda, it was overwhelmed by other events. The 2008 global financial crisis initiated a dramatic drop in the growth rate. Instead of looking toward 10%, as it was in the mid-2000s, India is now struggling to maintain 5% to 6%.4
Like the PRC, it may have entered a "new normal" phase of more moderate growth. At the same time, inflation has remained stubbornly high, driven by food price rises which are a particular burden for the poor.
The government's image has also been stained by governance issues. While governance is a perennial concern in India, and elsewhere in Asia, several major scandals, notably the auction of 3G mobile phone licenses, reflected poorly on the government. The politics of leadership have also been important. Congress Party has been guided, in part, by a respected but aging prime minister and it has been affected by a drawn out passing-of-the-torch between generations within the Gandhi family. Meanwhile, the economic record in Gujarat under Modi helped to bolster his credibility as an economic manager and provided the image of a leader who could get roads built and electricity flowing.
Given these issues weighing on the minds of the electorate, it is likely that they voted for a fresh start with a revitalized party and a new leader that could generate growth. It is less likely that they were rejecting the inclusive growth agenda of the past decade. What the change of government means for the future of that agenda is unclear. The rights to social protection in terms of rural employment, education and food security are guaranteed in law. But laws can be revised and repealed, and their implementation can be starved of funding.
The future agenda
There are, as yet, few clues as to whether the new government will retain these laws or chart a new course. Even the broader economic program of the new prime minister is unclear. He ran on his record in Gujarat, a record that included providing infrastructure, cutting red tape and attracting investors. He has championed his initiatives in social areas as well, including the installation of 76,000 lavatories in schools so that more girls could study. During the election he spoke of creating a price stabilization fund for agriculture, which would use real time market information, to curb inflation. Technology use has been a key theme, including innovations to expand distance learning to remote areas. His broader vision includes creating 100 new smart cities and seeing bullets trains connecting the four corners of India.
Whatever the specifics, the new government is likely to place the emphasis on the growth side of the inclusive growth equation. It hopes that a business friendly environment will generate jobs and that employment, instead of welfare guarantees, will ensure social inclusion and a continued decline in the poverty rate. If successful, it should also secure another election victory in five years' time.
_____
1 Growth rates, calculated as a simple annual average, and poverty figures are from the World Bank's World Development Indicators, accessed May 2014.
2 For government data on employment and the costs, see: http://nrega.nic.in/netnrega/home.aspx.
3 Kishore, A., P.K. Josh and J. Hoddinott. 2013. A Novel Approach to Food Security. 2013 Global Food Policy Report. Chapter 3. International Food Policy Research Institute.
4 GDP grew at 4.5% in 2012 and 4.9% in 2013. ADB estimates 5.5% growth in 2014 and 6.0% the following year. 2014. Asian Development Outlook 2014: Fiscal Policy for Inclusive Growth.