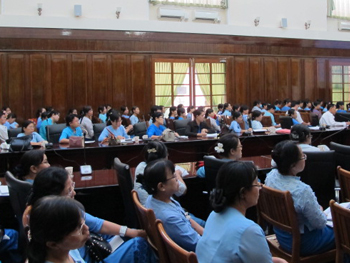 Developing Myanmar's knowledge economy is key to the country's economic development. Higher education institutions will play a central role in training Myanmar's workforce. Yet, a number of the academic programs lag behind international or ASEAN standards as universities have been virtually cut off from the outside world for decades.
According to a June 2013 report by the McKinsey Global Institute titled "Myanmar's moment: unique opportunities, major challenges," Myanmar's economic growth was "strikingly low" for most of the last century due to a gap in labor productivity. While global per capital GDP quadrupled from 1900 to 1990, Myanmar's was virtually stagnant. Although Myanmar's GDP grew from 1990 to 2010, it still lags behind its Asian neighbors. The McKinsey analysis notes that Myanmar has missed out on Asia's remarkable improvement in labor productivity, stating that "on average, a worker in Myanmar adds only $1,500 of economic value in a year of work, around 70% less than the average of seven other Asian economies." Myanmar's economy has fallen behind in developing manufacturing and service sectors like those that have been springing up in neighboring countries. In recent years, the government has recognized the need to train the future workforce to take part in the knowledge economy, and has begun to invest in tertiary education and to encourage universities to connect with counterparts around the world.
The opportunity to cooperate with counterparts abroad will enable universities in Myanmar to build institutional capacity and to prepare their students to meet workforce needs and support rapid economic development.
Rebuilding capacity in higher education
On 26 November, the Institute of International Education (IIE) launched a groundbreaking course, "Connecting to the World: International Relations for Higher Education Institutions," to train ministry officials and university representatives in Myanmar on how to create and manage an effective international education office. The twenty-week course began with an inaugural workshop at the US Embassy's American Center in Yangon.
After the initial in-person training workshop, participants will complete a series of 20 asynchronous lessons via online platform, USB drives, and written materials. Each participant will follow the pre-recorded lectures, video clips, and course readings individually, with the guidance of an experienced mentor. Lessons address topics such as the hosting of international delegations, facilitating faculty and student exchanges, cross-cultural communications, and developing international partnerships.
The rapid development and implementation of this course shows how fast things are changing in Myanmar—and the challenges still to come.
As part of a broader IIE Myanmar higher education initiative that seeks to help the country rebuild its higher education capacity, I led a delegation of 10 US universities to Myanmar in March 2013, together with Deputy Assistant Secretary of State for Academic Programs Meghann Curtis and representatives from the US Embassy. On that trip—the first of its kind for US universities—we visited universities and government ministries in Mandalay, Nay Pyi Taw, and Yangon.
As the first step to building deeper academic engagement between Myanmar and the US, the delegation members gave lectures and workshops for hundreds of faculty and staff members at the universities they visited. But each step of the way, we faced hurdles to setting up meetings, and we did not know when or whether permission would be given to give the public lectures.
After extensive discussions with the host universities and ministries, our delegation identified areas of need, which included: English language training for teachers; training and curriculum development in law, international relations, and public administration; and skill development in research proposals and collaboration, quality assurance, and teaching methodologies.
Greater academic engagement
The needs identified by the delegation were cited in an IIE report, Investing in the Future: Rebuilding Higher Education in Myanmar.
The key findings in the report include:
Key contextual issues need to be taken into account when considering international educational cooperation, including the political context; the lack of social capital; the lack of capacity to build international ties; the educational context; and the centralization and decentralization of bureaucracy and higher education.
In his inaugural address, Myanmar President Thein Sein pledged to improve education and seek foreign expertise to lift standards to international levels. The government increased its education budget from $340 million to $740 million and has begun to implement wide-ranging reforms. The government has made reform of the entire higher education system a priority, recognizing the important role of human capital to the country's economic development goals.
The energy and enthusiasm is very high among university administrators, faculty, and students to address Myanmar's pressing higher education needs. However, the challenges and needs exceed the capacity of the political and economic system to respond effectively.
Myanmar's higher education needs are extensive, from physical infrastructure and information technology, to the academic curriculum, the upgrading of the quality of faculty, reform of higher education administration and governance, and international engagement.
Despite the many challenges, small-scale interactions with higher education institutions in Myanmar will help not only to address a number of immediate needs, but will also create the partnerships that can lay the groundwork for larger engagements.
Recommendations for short- to mid-term goals include:
Expanding person-to-person networks through faculty and staff exchanges;
Helping inform the vision of Myanmar higher education through cooperation in curriculum development and basic research methods, as well as exposure to modern teaching methodologies and organizational and administrative issues;
Assisting in infrastructure development, especially libraries and science facilities;
Enhancing English language capacity of academic staff to teach effectively in English;
Better coordination of resources and efforts to avoid redundancy, maximize leveraging from individual initiatives, and provide the greatest possible benefit from those limited resources.
To address these needs, the delegation announced concrete university-led initiatives that will benefit citizens, students, and faculty from both countries. Universities in Myanmar are eager to form academic partnerships to address these needs, but they lack the experience to make these partnerships happen.
To meet the immediate need for an "international relations office" IIE's twenty-week course will address topics such as the hosting of international delegations, facilitating faculty and student exchanges, cross-cultural communications, and developing international partnerships. With an initial seed grant from the Henry Luce Foundation, we are working with Rutgers, the State University of New Jersey, Northern Arizona University, the Monterey Institute of International Studies, and Knowledge Platform, a next generation learning solutions company, to develop and deliver the course.
More autonomous decision making
Much has changed since our first visit to Myanmar. Universities are quickly gaining more autonomy in their decision making and are now authorized to sign Memoranda of Understanding directly with foreign universities (as long as they do not include financial or "political" references)—greatly simplifying the complex and lengthy approval process previously associated with establishing cooperation. Universities under the Ministries of Health, Science and Technology, Agriculture, and Education will participate in the course. Officials from several of those ministries are taking part in the training course, and some of the ministries have taken steps to set up international relations offices. Myanmar's Director General of the Ministry of Health said the course will help provide the country's higher education institutions with a "systematic way of dealing with international partners."
Internet connectivity is problematic in much of Myanmar, so IIE will provide participants with all the training materials in DVD format, on USB drives, and in print. The American Center in Yangon offers computer access for participants who lack a high-speed internet connection.
Most importantly, each participant will be paired with an expert mentor from various countries. Some forty individuals have volunteered to be paired with participants in Myanmar. These mentors—primarily senior international education professionals, including professionals from a range of countries, including Canada, Indonesia, Thailand, and the US—will provide feedback and offer assessments to participants.
Finally, IIE signed an historic framework agreement with Myanmar's Ministry of Science and Technology to expand higher education collaboration with the US. Our course is only the first step. Myanmar's universities face many challenges, but it is our hope to see these institutions and ministries, armed with their new international relations skills, make great strides in entering into partnerships and engaging with the world.