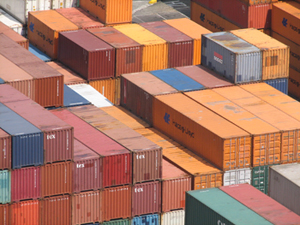 While the WTO Ministerial meeting in Bali in December may deliver on individual initiatives related to such themes as agriculture, trade facilitation and development, a major breakthrough on the "single undertaking" is far from sight. At the same time, mega-regional agreements are fast emerging as a key feature of the global architecture. This "new regionalism" could pose risks, but successful mega-accords will create a strong incentive for a global accord; hence, the "new regionalism" will arguably be a powerful "building bloc" that will ultimately support multilateralism.
Mega-free trade agreements on the horizon
The Transpacific Partnership (TPP) and the Regional Comprehensive Economic Partnership (RCEP) are two mega-regional agreements notable for their sheer size, overlap, and comprehensiveness. Moreover, the 2010 APEC "Yokohama Vision" aims to bring together members of these groups into a Free Trade Area of the Asia-Pacific (FTAAP) with negotiations to begin in 2020. Figure 1 shows the membership in each of these organizations, including two versions of the TPP: existing negotiating members (TPP12) and a possible scenario in which Indonesia, the Republic of Korea, Malaysia, and Thailand, join (each has expressed some interest in doing so), the TPP16. If negotiations go according to plan, these mega-free trade agreements (FTAs) could be in place within ten years and completely in effect within twenty years.
The "noodle bowl" of Asia-Pacific bilateral FTAs is giving way to the economic logic of consolidated regional FTAs that not only reduce the negative effects of bilateral FTAs but are more conducive to production networks that have been driving trade and investment in the region. This "new regionalism" will cut costs associated with bilateral FTAs and has many advantages over noodle-bowl bilateralism. It offers great economic benefits and a vision of future of global free trade.
Figure 1. RCEP, TPP, and FTAAP Tracks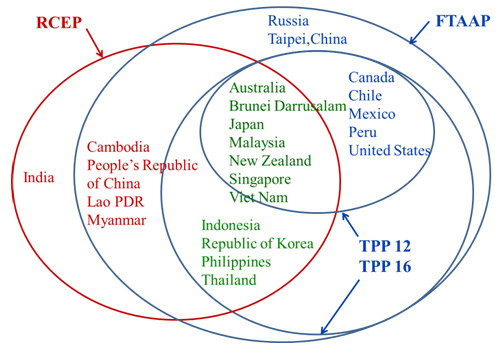 Source: Adapted from Peter, Plummer, and Zhai 2012.
Based on modeling work undertaken with my colleagues Peter Petri and Fan Zhai (see Petri, Plummer, and Zhai 2012 and asiapacifictrade.org for details), Table 1 shows that the TPP, RCEP, and FTAAP mega-accords will generate major economic gains. In general, the deeper the liberalization (TPP) and the larger the area (FTAAP), the greater will be the economic gains. Moreover, gains by individual countries will depend on size, trade, investment patterns, initial barriers, and existing FTAs.
Table 1. Income Effects of TPP, RCEP, and FTAAP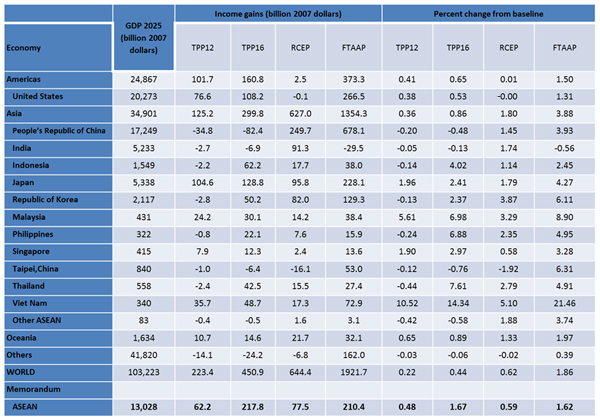 Source: Petri and Plummer 2013.
Besides the Asia and Pacific region, regional approaches are being taken all over the world. For example, the European Union is expanding eastward—Croatia joined in July—and has launched FTA negotiations with Japan and the US. It has FTAs under negotiation with Africa under the Cotonou Agreement. The African Union has endorsed negotiations for a pan-Africa FTA—the Continental Free Trade Area—to be completed by 2017. Latin America has several sub-regional agreements in place and has expressed interest in a region-wide agreement, including possibly with North America under the Free-Trade Area of the Americas initiative (on hold since 2005).
The future of global free trade
The Asia and Pacific region is the key to a global accord. A successful conclusion to the TPP negotiations will likely increase the incentives of Northeast Asian economies to work together with Southeast Asian economies to conclude the RCEP by 2015. If both are concluded, the Asia and Pacific region will be well on its way to an FTAAP by 2020. This process could potentially incentivize other regions and economies to move forward in a similar fashion, among themselves and with countries in the Asia and Pacific region. Recognizing this potential, negotiators will keep in mind the need to promote rules and standards that can optimally be multilateralized. In sum, if managed correctly, Asia and Pacific regionalism arguably offers the most promising path toward global free trade.
References:
Petri, P. A., and M. G. Plummer. Forthcoming 2013. ASEAN Centrality and the ASEAN-US Economic Relationship. Advance Copy of Policy Series 69. 22 November. Honolulu: East-West Center.
Petri, P. A., M. G. Plummer, and F. Zhai. 2012. The Trans-Pacific Partnership and Asia-Pacific Integration: A Quantitative Assessment. Policy Analyses in International Economics 98. Washington, DC: Peterson Institute for International Economics.
Plummer, M. G. 2012. The Emerging "Post-Doha" Agenda and the New Regionalism in the Asia-Pacific. ADBI Working Paper Series. No. 384. Tokyo: Asian Development Bank Institute.