About Sugata Marjit
Sugata Marjit is Reserve Bank of India Professor of Industrial Economics at the Centre for Studies in Social Sciences in Calcutta, India.
Author Archive | Sugata Marjit
Environment, Industry and trade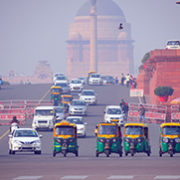 India embarked on a path of liberal economic reform in the 1990s after years of nurturing an intensively regulated and controlled economic environment that was loosened slightly in the mid-1980s. The most important and critical segments of this reform were trade and foreign investment. India has felt the impact of globalization through increased prosperity, partly triggered by increasing trade volumes, investment, and growth.
Subscribe / Connect to Asia Pathways
Archives