About Azar Hasanli
Azar Hasanli is an advisor-expert at the Center for Strategic Studies under the President of Azerbaijan.
Author Archive | Azar Hasanli
Economics, Governance and public sector management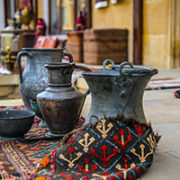 After the oil price crunch in mid-2014, Azerbaijan entered into a new stage of economic development. During 2004–2014, thanks to high oil prices, Azerbaijan achieved substantial growth rates, which were accompanied by improved social conditions and macroeconomic stability. Azerbaijan's average annual growth rate during 2000–2013 of 11.3% played a key role in the improvement of the country's international economic ranking.
Subscribe / Connect to Asia Pathways
Archives