About Shiro Armstrong
Shiro Armstrong is co-director of the Australia-Japan Research Centre at the Crawford School of Public Policy, ANU, and editor of the East Asia Forum. This piece draws on the April edition of the Bulletin of Indonesian Economic Studies "Survey of Recent Developments" written with Sjamsu Rahardja.
Author Archive | Shiro Armstrong
Economics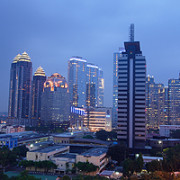 Indonesia's president-elect Joko Widodo (Jokowi) has declared he aims to push the growth rate of the economy above 7% a year. The growth rate has been running below 6% a year, and the World Bank and IMF predict that it will continue at 5.6% and 5.8%, respectively, in 2015.
Subscribe / Connect to Asia Pathways
Archives