About Paulo Mutuc
Paulo Mutuc is a research associate at the Asian Development Bank Institute (ADBI) and a PhD candidate at the Waseda University Graduate School of Asia-Pacific Studies. His research interests are in trade, applied economics, and behavioral economics.
Author Archive | Paulo Mutuc
Economics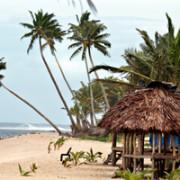 Tourism is one of the most promising growth sectors in the Pacific region. The number of tourist arrivals has more than doubled in the past decade, from around 600,000 in 2002 to 1.3 million ten years later. The potential for tourism in the Pacific is substantial as many islands offer unspoiled nature and scenic landscapes. However, travel to the Pacific can be inconvenient. There are only 35 direct flights from countries outside the Pacific to countries in the Pacific and the flight frequency is low. New research by ADBI shows that the number and frequency of direct flights is an important determinant on the number of tourist arrivals in the Pacific. The research also highlights that the potential of receiving large numbers of Asian tourists remains untapped. However, realizing the great potential of tourism will not only depend on better connectivity, but also on the capacity of Pacific region countries to respond to the growing demand.
Subscribe / Connect to Asia Pathways
Archives