About Durreen Shahnaz
Professor Durreen Shahnaz is the founder of Impact Investment Exchange Asia, an intermediary with over US$68 million in investment opportunities, and Impact Investment Shujog.
Author Archive | Durreen Shahnaz
Social development and protection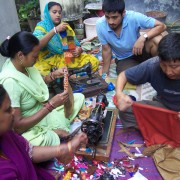 The time has come to look at "social enterprises"—a form of capitalism that includes social and environmental objectives in addition to the profit motive. More than a century ago, Henry Ford asserted that "a business that makes nothing but money is a poor business." The world is now overrun by such "poor businesses." The heedless pursuit of financial gains may produce happy management teams and shareholders, but it also results in an unhappy planet for businesses to operate in. The solution is not for these businesses to give some money to charity, or to get employees to play "builder" or "teacher" for a day as part of so-called "corporate social responsibility" initiatives.
Subscribe / Connect to Asia Pathways
Archives