About David I. Steinberg
David I. Steinberg is Distinguished Professor of Asian Studies, School of Foreign Service, Georgetown University. His latest volume (with Fan Hongwei) is Modern China-Myanmar Relations: Dilemmas of Mutual Dependence (Nordic Institute of Asian Studies, March 2012).
Author Archive | David I. Steinberg
Governance and public sector management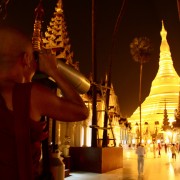 The remarkable, surprising, and extensive reformist policies of the new Republic of the Union of Myanmar have sparked interest throughout the international community. As one of the world's last bastions of both relative isolation and new opportunities, Myanmar has recently become a magnet to which many are drawn. Governments, international non-profit organizations, and businesses are exploring what they might do in a state marred by intense poverty but possessing abundant natural resources. With a literate and diverse population and a myriad of business opportunities, Myanmar entices with many diverse possibilities for rapid growth and social equity. Hotels are filling up with tourists who now feel more comfortable going to that once exotic land, and embassies may well expand staffs to handle more foreign assistance. Many more international NGOs will join the fifty or so already there, and those that are well established may increase staffs as needs become more visible and access increases.
Subscribe / Connect to Asia Pathways
Archives