About Almas Bakbergenov
Almas Bakbergenov is a teaching assistant, Graduate School of Public Policy, Nazarbayev University, Astana.
Author Archive | Almas Bakbergenov
Economics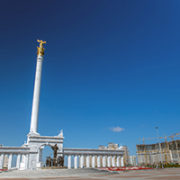 As a highly globally integrated, resource-rich, upper-middle income country, Kazakhstan has been facing significant challenges in the current global environment. Kazakhstan's major challenges include managing its public finances to preserve fiscal stability and generating broad-based economic growth.
Subscribe / Connect to Asia Pathways
Archives