About Susann Roth
Susann Roth is Senior Social Development Specialist (Social Protection) in the Sustainable Development and Climate Change Department at the Asian Development Bank.
Author Archive | Susann Roth
Health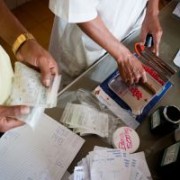 If you live in Asia and the Pacific, do you ever wonder how high your risk is of contracting antimicrobial-resistant bacteria or emerging infectious diseases such as a new strain of avian influenza? Unfortunately, I have to tell you that the risk here is higher that in any other region in the world.
Subscribe / Connect to Asia Pathways
Archives