About Maria Teresa Punzi
Maria Teresa Punzi is an assistant professor at the Institute for International Economics and Development, WU Vienna University of Economics and Business.
Author Archive | Maria Teresa Punzi
Finance sector development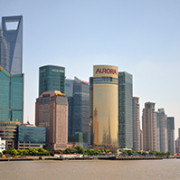 On August 2015, the People's Bank of China devalued the yuan with the aim of appreciating the currency against the US dollar. On October 2015, the European Central Bank signaled the intention to pump more liquidity into the eurozone economy. On October 2015, the Federal Reserve postponed its intention to conduct tapering on its monetary policy. Over the last 24 months, the dollar has been up nearly 10% against a major currency index of its trading partners. Emerging market economies have been facing disappointing growth, more volatile foreign exchange rates, and low inflation due to the slowdown in economic activities and the sharp decline in commodity prices. Moreover, the growth of debt in emerging countries has increased dramatically compared to advanced economies. Since 2009, the average level of private credit as a proportion of gross domestic product (GDP) has increased from around 75% to 125%. These stylized facts highlight deep uncertainties and downside risks in Asia. Measures of regional financial integration, capital market deepening, and emerging market banking systems must be carefully evaluated.
Subscribe / Connect to Asia Pathways
Archives