About Hoa Truong
Hoa T. Truong is a research associate at ADBI.
Author Archive | Hoa Truong
Economics, Finance sector development, Health, Social development and protection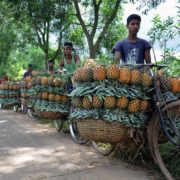 While the World Bank has identified Bangladesh as one of only three big economies that had increases in remittance inflows in 2020, along with Pakistan and Mexico (Ratha et al. 2020), and remittances have long made up a substantial share of people's income in the country, preliminary results from a recent study supported by the Asian Development Bank Institute (ADBI) finds surprising resilience for remittance inflows into the rural economy during the first wave of the coronavirus disease (COVID-19) pandemic in Bangladesh.
Subscribe / Connect to Asia Pathways
Archives