About Emanuele Schibotto
Emanuele Schibotto is a PhD candidate in geopolitics at Guglielmo Marconi University in Rome. He is also editorial director of the Italian think thank on International Relations Equilibri.net; director for development at the Asian Century Institute; and business development manager for the international language consulting firm Maka.
Author Archive | Emanuele Schibotto
Regional cooperation and integration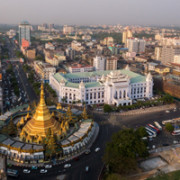 One of the pillars of Myanmar's democratic transition is its capacity to foster economic development through foreign investments. However, a huge infrastructure deficit combined with electricity shortages are serious concerns for foreign companies willing to operate in this promising new market. As Asia's second poorest country, Myanmar's leaders need a reliable foreign investor who has both the financial capabilities and the industrial skills to cope with the challenge. This partner is Japan.
Subscribe / Connect to Asia Pathways
Archives