About Cinnamon Dornsife
Cinnamon Dornsife is a senior associate director at the International Development Program, Paul H. Nitze School of Advanced International Studies, Johns Hopkins University.
Author Archive | Cinnamon Dornsife
Social development and protection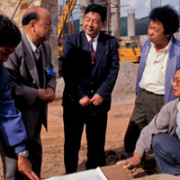 Are the BRICS countries (Brazil, Russia, India, People's Republic of China, South Africa) new aid donors? No, they are long-standing providers of foreign assistance, with the People's Republic of China (PRC) commencing its foreign assistance programs in 1950, Russia in 1955, Brazil in 1960, and South Africa in 1968. However, the BRICS' foreign assistance programs have grown in recent years, some dramatically. Though the BRICS countries are grouped together, the PRC is by far the largest and most significant player. In January 2011, the Financial Times reported that in 2009–2010, PRC lending to the poorest states exceeded that lent by the World Bank.
Subscribe / Connect to Asia Pathways
Archives