About Anshul Pachouri
Anshul Pachouri is currently working on strategy practice at a global consulting firm based in India.
Author Archive | Anshul Pachouri
Health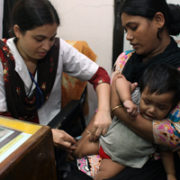 The countries comprising the South Asian Association for Regional Cooperation (SAARC) region (India, Pakistan, Bangladesh, Nepal, Bhutan, Afghanistan, Sri Lanka, and the Maldives) commonly known as South Asia face serious healthcare affordability and accessibility challenges. According to World Bank national estimates, South Asian countries houses more than 390 million poor people and a very significant percentage of total population lies below national poverty line (Figure 1). This large number of population is quite unlikely to afford private healthcare services and heavily dependent on the public healthcare facilities.
Subscribe / Connect to Asia Pathways
Archives