About Michael C. Huang
Michael C. Huang is a research fellow at the Ocean Policy Research Institute of the Sasakawa Peace Foundation based in Tokyo, Japan.
Author Archive | Michael C. Huang
Climate change, Economics, Environment, Governance and public sector management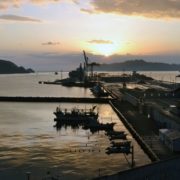 This year marked the 10th anniversary of the Great East Japan Earthquake, of which economic losses are estimated at $221 billion (EM-DAT), making it the most costly natural disaster recorded since 1900. The earthquake itself did not cause significant damage or casualties, but the subsequent 5–20 meter tsunami hit northern coastal areas, washing away townships and destroying the cooling system at the Fukushima Daiichi Nuclear Power Plant. To date, the recovery process is still ongoing to restore industries and economic activities to their pre-disaster levels.
Subscribe / Connect to Asia Pathways
Archives