About Poe Oo
Poe Oo is a master's student at the University of Tokyo's Graduate School of Public Policy and a former intern at ADBI.
Author Archive | Poe Oo
Governance and public sector management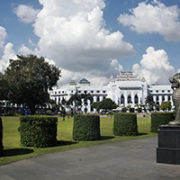 The coronavirus disease (COVID-19) has highlighted the importance of the civil service but has also, ironically, hindered its reform activities. Civil service personnel will have to work with government leaders to find the right balance between addressing public health and economic concerns and implementing policies for mitigating the effects of the pandemic. It is crucial that the civil service is equipped with the capacity and mindset to address this crisis.
Subscribe / Connect to Asia Pathways
Archives