About Deepanshu Agarwal
Deepanshu Agarwal is a research associate at ADBI.
Author Archive | Deepanshu Agarwal
Capacity development, Health, Social development and protection, Urban development, Water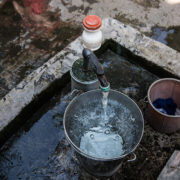 Over a billion people across Asia and the Pacific still lack access to basic sanitation services (JMP 2019). Most low- and middle-income countries in Central Asia, South Asia, and East Asia still do not have safely managed sanitation services. Further, only a fifth of the countries practicing open defecation are on track to eliminate this practice around the world. Clearly, business as usual in the sanitation sector has not solved this challenge in the last several decades.
Subscribe / Connect to Asia Pathways
Archives