About Zhang Bin
Zhang Bin is a senior fellow at the Institute of World Economics and Politics, Chinese Academy of Social Sciences.
Author Archive | Zhang Bin
Economics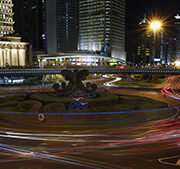 After rapid economic growth lasting more than 30 years, the People's Republic of China (PRC) has stepped into the upper middle-income stage. The country's gross domestic product (GDP) per capita reached $6,416 (constant 2010 dollars) in 2015, equivalent to $13,400 in international dollars under purchasing power parity (constant 2011 international dollars).
Subscribe / Connect to Asia Pathways
Archives