About Navneet Manchanda
Navneet Manchanda is a consultant (economist) at the World Bank, New Delhi.
Author Archive | Navneet Manchanda
Agriculture and natural resources, Governance and public sector management, Health, Poverty, Social development and protection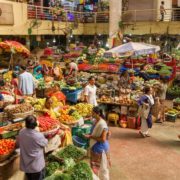 Food insecurity continues to be a pressing issue worldwide, despite scientific innovation and technological advancements in agriculture. Therefore, food security continues to be at the center of the global development agenda. The burgeoning demand for food due to exponential growth in the world's population and the mismatch between demand and supply due to factors such as climate change, loss of soil fertility, land degradation, water scarcity, food loss and waste, and inefficient distribution systems, have exacerbated the problem of food insecurity.
Subscribe / Connect to Asia Pathways
Archives