About En-Qi Teo
En-Qi Teo is a graduate of the National University of Singapore.
Author Archive | En-Qi Teo
Climate change, Energy, Finance sector development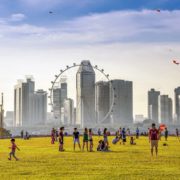 The member countries of the Association of Southeast Asian Nations (ASEAN) have been experiencing a surge in energy demand due to their growing populations, expanding economies, and rising living standards. One reason for this rising energy demand is increased activity in the building and construction sector.
Subscribe / Connect to Asia Pathways
Archives