About Alessia Destefanis
Alessia Destefanis is a student at the Paris School of Economics.
Author Archive | Alessia Destefanis
Governance and public sector management, Health, Poverty, Social development and protection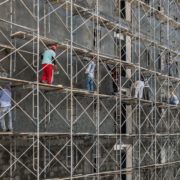 The informal sector, which employs over 62% of the global population, is a fundamental source of livelihood for over 2 billion people (ILO 2020). Here, "employment" includes self-employment, and the informal sector refers to the part of the economy that is generally not monitored by a tax authority or other forms of government. Before the outbreak of the coronavirus disease (COVID-19), the informal sector accounted for 87.7%, 51.5%, and 55.7% of the population in low-, middle-, and high-income countries, respectively (ILO 2018a).
Subscribe / Connect to Asia Pathways
Archives