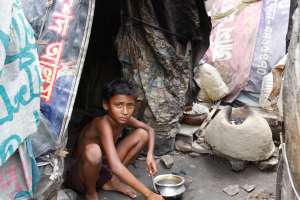 Any contemporary story on development in the Asia and Pacific region begins with reflection on the massive gains achieved in the fight against poverty. The incidence of people living on less than $1.25 a day fell from 54.5% in 1990 to 20.7% in 2010, with the number of extreme poor declining from 1.48 billion to 733 million. This precipitous decline in poverty incidence has been accompanied by tremendous gains in access to health and education.
Without diminishing the progress made over the last 25 years, the region remains somewhat of a paradox: enviable growth and wealth on one hand and dire poverty and inequality on the other. The Asia and Pacific region remains home to more than 60% of the world's extreme poor and two-thirds of the world's hungry. While we've seen progress on the Millennium Development Goals (MDGs), it is uneven, across, and within countries. Despite eye-popping gross domestic product growth—increasing income inequality and vulnerability, infrastructure constraints, climate change and disaster risks threaten to undermine achievements.
As these threats increase, the region's sources of finance and aid architecture are also rapidly changing. Challenging budget environments in many Organisation for Economic Co-operation and Development member-countries have resulted in a decline of concessional development finance across Asia. This is against a backdrop of non-aid resources—such as remittances and foreign direct investment—increasing in importance, and a growth in funding from "non-traditional" donors, including emerging economies and philanthropic organizations. On top of this, more countries have greater access to international capital markets to fund their development needs.
The importance of a global partnership
The aid effectiveness journey from Rome (2003), to Paris (2005) and Accra (2008) focused on good principles for aid providers and recipients, largely in the context of attaining the MDGs at country level. It was less clear how these narrow principles would remain relevant in a rapidly changing global environment, particularly here in the Asia and Pacific region. The Global Partnership for Effective Development Co-operation, launched at the fourth High Level Forum on Aid Effectiveness in Busan, Republic of Korea recognized this and highlighted partnerships based on shared principles for better development results, nudging forward the agenda on MDG 8 (Develop a Global Partnership for Development). This was advanced further by the United Nations High Level Panel on the Post-2015 Development Agenda which called for a new global partnership framework—a transformative shift for co-operation and mutual accountability. In Bali, March 2013, the Panel agreed on the central importance of a global partnership for a "people-centered and planet-sensitive agenda," based on "common humanity."
These developments demonstrate an emerging view that any post-2015 framework needs to be supported by dynamic partnerships. If stakeholders ultimately agree, then the successor to Goal 8 will be central to all other post-2015 goals and applicable to all countries—unlike the MDG framework where goals 1–7 applied to developing countries and goal 8 primarily targeted developed countries.
Integrating the three pillars of sustainable development
The Asia and Pacific region has undertaken serious efforts to examine emerging development challenges and goals from a regional perspective, even as the globally agreed post-2015 agenda is being finalized. The eighth Asia-Pacific Regional MDG Report 2012/2013 calls for integrating the three pillars of sustainable development—economic prosperity, social equity, and environmental responsibility into a post-2015 development framework.
By 2015, the ninth report will consolidate ideas from the region on development partnerships and offer insights to strengthen the successor to Goal 8. Three strategic areas for regional and global partnerships have been identified, which help articulate the region's priorities for a successor to MDG 8. These include:
regional public goods—e.g., promoting technology and knowledge transfer in the areas of food security, environment and health, which will not only help address development deficits in individual countries, but also have cross-border implications;
data—strengthening the evidence base for planning and monitoring, including more disaggregation to measure and address inequalities and tracking energy-intensity of GDP rather than just (already low) per capita emissions; and
finance—expanding financing options for the post-2015 agenda from both public and private sources.
Countries must each find ways to link the post-2015 and Global Partnership agendas— bringing together distinct goals to reflect nations' different but complementary responsibilities for a shared global agenda. Collectively, we need to co-ordinate these interlinked agendas—including MDG 8 discussions and the Global Partnership—as well as identifying ways to measure results from these partnerships and indicators attached to the successor to MDG 8.
This article was first published by the ADB Development Blog.