About U. Rashid Sumaila
Rashid Sumaila is a professor in the Fisheries Economics Research Unit and and Director of the OceanCanada Partnership at the University of British Columbia.
Author Archive | U. Rashid Sumaila
Industry and trade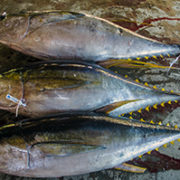 What fish trade policy options and recommendations can be put in place to help achieve the relevant Sustainable Development Goals (SDGs) of the United Nations? We need to understand the (i) relationship between fish trade and sustainable fisheries; (ii) potential promise of and the perils in the fish trade; and (iii) main trade-related concerns in the sustainability of fisheries. Sumaila (2017) addresses these issues in detail.
Subscribe / Connect to Asia Pathways
Archives