About Sock-Yong Phang
Sock-Yong Phang is Celia Moh Professor of Economics at Singapore Management University.
Author Archive | Sock-Yong Phang
Social development and protection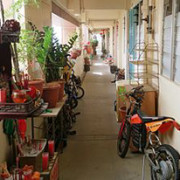 In 2015, the value of housing assets owned by households in Singapore at the aggregate level was 55% of their net worth. Ninety percent of Singapore households owned their homes, meaning that almost all households had wealth saved in housing, and households' housing wealth was 2.1 times that of the country's gross domestic product.
Subscribe / Connect to Asia Pathways
Archives