About Preety Bhandari
Preety M. Bhandari currently leads the Climate Change Coordination and Disaster Risk Management Unit of ADB's Regional and Sustainable Development Department where she is responsible for providing policy and strategic direction to ADB's climate change program. Prior to joining ADB, she headed the Finance, Technology and Capacity Building Program of the secretariat of the UN Framework Convention on Climate Change and has also worked as the Director of the Policy Analysis Division at The Energy and Resources Institute in India. She has over 27 years' experience in environment, climate change and sustainable development work, including serving as a member of the core group on climate change, established by the Government of India to assess India's strategy for the UN climate change negotiations.
Author Archive | Preety Bhandari
Environment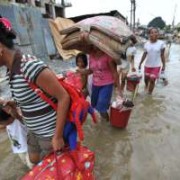 A set of reports by the Intergovernmental Panel on Climate Change (IPCC), the last of which was released on November 2, 2014, sets the scene for governments to renew their efforts on the issue through ambitious commitments for a comprehensive climate agreement in Paris in December 2015.
Subscribe / Connect to Asia Pathways
Archives