About Kiyoshi Taniguchi
Kiyoshi Taniguchi is a senior economist in the Asian Development Bank's Private Sector Operations Department where he oversees "quality at entry" of non-sovereign projects and conducts economic analysis for project processing and project completion reviews. Outside of ADB he has worked for the World Bank's Indonesia Country Office and began his career as a development economist at the UN Food and Agriculture Organization in Rome, Italy. He has also taught development economics to post graduate students at International University of Japan. He received a PhD and MA in Economics from Ohio State University and a BS in Economics (Hon.) from the University of Oregon. He also has a Bachelor in Law from Chiba University in Japan.
Author Archive | Kiyoshi Taniguchi
Finance sector development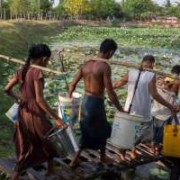 Myanmar opened a new chapter in its history in November 2010 when it adopted its open-economy policy. Since then, an impressive array of reforms has been implemented. Excitement about this transition has been widely shared among political, economic, and investment communities around the world. However, Myanmar's sustainable and inclusive growth depends on it maintaining this momentum during its transition—particularly inflows of foreign direct investment.
Subscribe / Connect to Asia Pathways
Archives