About Alexis Yong
Alexis Yong is assistant professor of international business at the Universidad del Pacífico and a researcher associated with the APEC Study Center at the same institution. His area of specialty involves international trade and his current work focuses on trade and investment dynamics among different countries in Latin America and Asia and the Pacific.
Author Archive | Alexis Yong
Industry and trade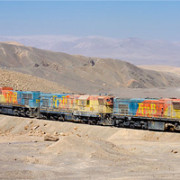 Chile, Mexico, and Peru are the three Latin American countries participating in the negotiations of the Trans-Pacific Partnership Agreement (TPP). Although these countries have cultural and geographical proximity, they exhibit different export structures and consequently different objectives toward the ongoing TPP negotiations. Even more intriguing is to understand the particular interests of each country in light of the key issues being negotiated and discussed, such as agriculture, intellectual property rights, and trade in services.
Subscribe / Connect to Asia Pathways
Archives