About Alejandro Jara
Alejandro Jara is Deputy Director-General of the WTO. He was formerly Ambassador, Permanent Representative of Chile to the WTO; Chairperson of the Committee on Trade and Environment of the WTO; and Chairman of the Special Session of the Council for Trade in Services.
Author Archive | Alejandro Jara
Industry and trade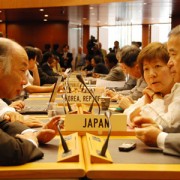 The Doha Round of the World Trade Organization (WTO) negotiations has been stalled since July 2008. To try to end this impasse, the leaders of the G-20 pledged at their summit in Seoul in November 2010 that negotiations should be concluded by the end of 2011. Since a consensus among the G-5—the European Union, Brazil, the People's Republic of China (PRC), India, and the United States—would be required for this to happen, the negotiations fell mainly into the hands of these members. However, much to the disappointment of the rest of the World Trade Organization (WTO) membership, in April 2011 the G-5 announced that their differences were too wide and that they would stop looking for a breakthrough. As a result, the target of concluding the Doha Round by the end of the year was not met.
Subscribe / Connect to Asia Pathways
Archives