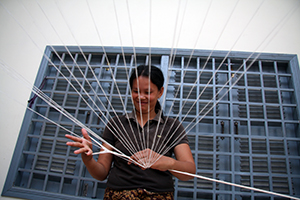 A gloomy outlook is enveloping the world's economies. There are concerns too that countries are failing to sufficiently focus on long term policy responses to reverse the decline in global growth. Some argue that the global growth slowdown may be permanent, highlighting the danger of a period of chronically low growth, or what economists term "secular stagnation."
While secular stagnation for the global economy is still a debated hypothesis, for developing Asia, a downbeat view of its economies and policies is clearly overdone. While the growth has slowed, it is still robust. At 6.5% annually over the last 5 years, it remained the fastest growing region in the world. By comparison, developing countries outside Asia grew 3.4% and advanced countries only 1.6% annually during the same period.
Yes, developing Asia's growth is noticeably slower. In the decade up to 2010, annual average growth reached 7.6%. Our most recent forecasts project regional growth to edge down to 5.7% over the next two years.
This, however, does not portend a secular decline in the region's growth rates.
Lingering crisis-related factors partly explain this slowdown. Weak global demand has reduced exports from the region's open economies including those with strong links in global value chains. Furthermore, the flagging global recovery and growth moderation in the People's Republic of China's (PRC) have softened global commodity prices and constrained the growth of commodity-exporters including many Central Asian countries.
There are important structural factors too. A recent ADB study shows that developing Asia's potential growth – or growth consistent with stable inflation – slowed from 7.4% annually in the seven years before the global financial crisis to 7.1% in the seven years after the crisis, due to a combination of falling growth in the size of labour force – related to demographics – and in labour productivity.
The reality is that when we look at Asian economies today we see several reasons for optimism.
First, while the PRC's growth deceleration may continue, it is likely to be gradual. The key to sustain PRC's growth at a robust pace is to maintain solid productivity growth through a greater focus on innovation and industrial upgrading, to offset the impact of declining working-age population. This is indeed among priorities of PRC's new Five-Year Plan (2016-2020). Its on-going shift in growth model from heavy reliance on manufacturing exports and investment towards domestic consumption and the service sector will make growth more balanced and therefore more sustainable. ADB projects the PRC to grow 6.5% in 2016 compared with 6.9% in 2015.
Second, many other Asian economies continue to grow strongly, benefiting from reform efforts. Over time, developing Asia's growth is likely to be driven by multiple growth centers. Across South and Southeast Asia we have upgraded recent growth forecasts, including major economies such as Bangladesh, India, Indonesia, Pakistan, and the Philippines. India, for example, is the fastest growing major economy and has developed a comparative advantage in services particularly information technology services. The country is presently attempting to foster manufacturing development and linkages to global value chains through a Make in India Program. Likewise, Indonesia is attempting to shift away from a dependence on natural resources into manufacturing development. Growing at 7-8% annually, Cambodia, Lao People's Democratic Republic, and Myanmar continue to catch up with the rest of the Association of Southeast Asian Nations (ASEAN).
The PRC's structural transformation also offers new opportunities to other economies, as the country gradually withdraws from low-cost, labor-intensive manufacturing industries and its growing middle class demands more quality consumer goods.
Third, regional economies have learnt valuable lessons from the Asian financial crisis and taken steps to reduce financial vulnerability and bolster resilience to external shocks. Across developing Asia, macroeconomic management has improved, and authorities have intensified the use of macroprudential policies and strengthened the oversight of corporates and financial institutions. Regional integration is increasingly linking markets and production through the spread of global value chains, free trade agreements, foreign direct investment, and greater mobility of skills.
Fourth, the region still has large room for catch-up with advanced countries. In 2015, developing Asia's average per capita GDP was only $4,796, compared with the global average of $10,139 and an OECD average of $35,768. Indeed, most of the economies in the Asia-Pacific region are still classified as low- and lower-middle-income economies. Notably, Singapore; the Republic of Korea; Taipei, China; and Hong Kong, China grew at about 7-9% in the 1960s to the 1980s before they became newly-industrialized economies.
Last but not the least, many Asian countries—PRC, India, Indonesia, and many more—are scaling up reform efforts in trade and investment regimes, macroeconomic management and public finance, financial regulation, and public sector governance. These reforms will continue to reduce impediments to efficient resource allocation, improve technical and managerial efficiency, enhance an economy's ability to respond to shocks, and lay the foundations for greater private investment and innovation.
In recent decades, structural reforms that addressed specific domestic constraints have been key drivers of rapid economic growth in developing Asia, and they will remain so in the years ahead. ADB's research concludes that policies that close half of the gaps with globally best practices in tertiary education, labour market flexibility, institutional quality, and trade openness and financial integration could raise developing Asia's potential growth by nearly 1 percentage point annually over the next ten years.
Undue pessimism about developing Asia's growth is misplaced. With reforms and their effective implementation, the region can and will continue to drive global growth.
This article was first published by the OECD Insights Blog.