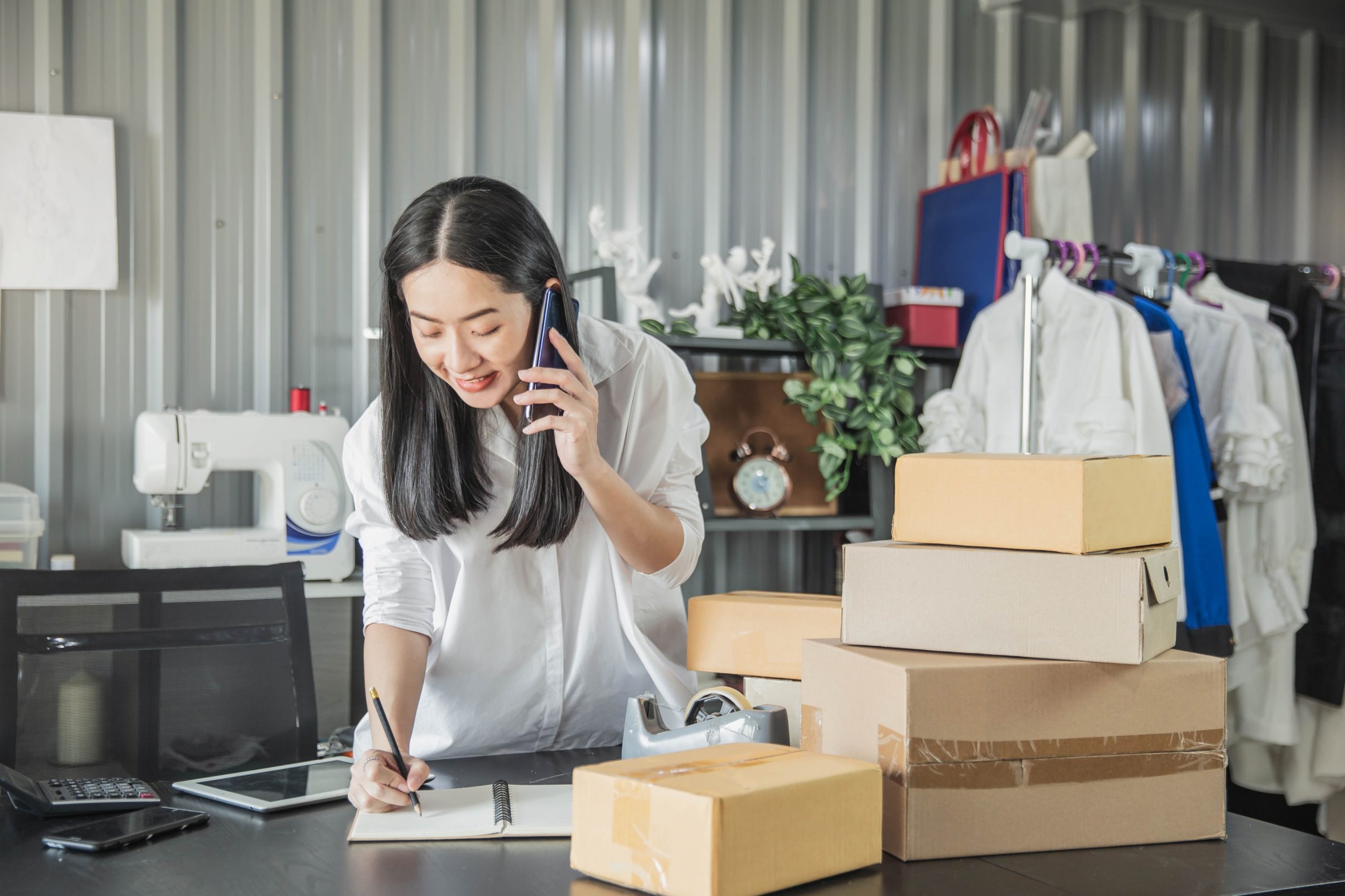 The fashion industry employs millions worldwide, from artists and models to dressmakers, merchandisers, and many more. However, it has also been deeply impacted by the coronavirus disease (COVID-19) pandemic as the majority of the work in the sector is carried out by small and medium-sized enterprises (SMEs). Although SMEs hold the largest proportion of the market in developing economies, they tend to have limited reliable safety nets and make little to no net revenue in their first 4–6 months of business (Teodoro and Rodriguez 2020). Many SMEs are also not fully prepared for digitalization, which can create a communication gap between consumers and producers.
These combined factors pose serious risk for the labor force that relies on the clothing industry in Asian countries such as the People's Republic of China (PRC) and Bangladesh, the world's leading clothing producers. Ready-to-wear apparel comprised 84% of Bangladesh's total exports in 2019, highlighting the economy's vulnerability to a deterioration in manufacturing (Ishaque 2019). According to the Bangladesh Garment Manufacturers and Exporters Association (Ishaque 2019), the country suffered over $3 billion in losses from order cancellations and suspensions in 2020 alone, impacting the livelihoods of 2.28 million workers and leaving 4.1 million fashion-related workers unemployed. A study conducted by Penn State's Center for Global Workers (Anner 2020) also found that more than 72% of original purchasers declined making the full payments for raw materials (such as cloth) that were already bought by producers.
Fashion merchandise vendors and supply chains have also suffered, especially within the luxury fashion industry, which lost around $43 billion worldwide in 2021, and the figure could be even higher when accounting for minor brands (Balchandani 2021). The Milan and Paris Fashion Weeks lost revenue when Chinese fashion houses were unable to attend due to the pandemic restrictions in 2020. Despite these circumstances, big fashion names began taking new approaches by utilizing digitalization—Shanghai Fashion Week pioneered a fully digital experience, and the same approach was followed at London Fashion Week.
However, this new reliance on digitalization has led to the emergence of a wide digital gap due to the lack of digitalization among SME brands. By April 2020, daily visitors to 100 major fashion brands in Europe collectively increased by 45% through the online platform, creating opportunities to cut advertising and other publicity (Gonzalo et al. 2021). But while most major brands have websites, most smaller ones do not. On average, new companies commence online commerce within 10–15 weeks, but it generally takes longer for SMEs in the fashion industry to expand their businesses online (Gonzalo et al. 2021). This reality indicates the need to bridge the digital gap and promote mass digitization, especially in Asia.
Figure 1 illustrates the changes in time utilized by customers across different activities and shows sharp increases in time spent sending emails, using social media, and online shopping during the pandemic. This indicates the need for governments to support fashion SMEs in dealing with these changes and increased online commerce. Governments in Asia should consider conducting capacity building programs to help fashion SMEs establish an online presence, provide financial help for brands to speed up online logistics, and create a community where SMEs can collaborate. Fashion brands can start adopting online platforms to engage with their current consumers and expand their customer base even if they are not currently online. Sending consumers relevant notifications or emails, adjusting their content using personalized algorithms, and constantly improving their services by listening to customers' feedback can be vital tools for keeping businesses afloat.
Figure 1: Changes in Time Utilization by Customers during the Pandemic, 2021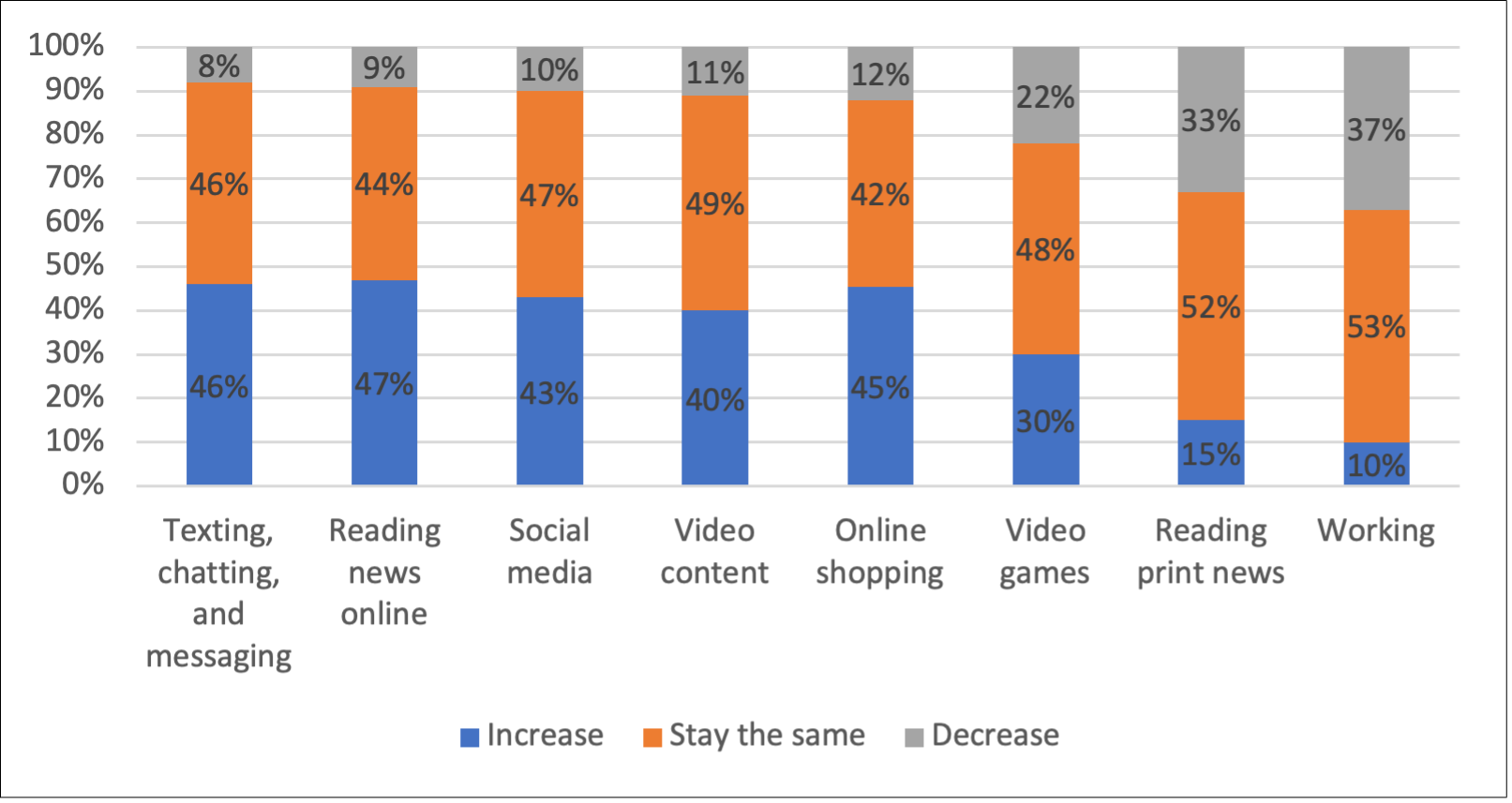 Source: Gonzalo et al. (2021).
Table 1 shows the share of fashion sales via online shopping. Across the United States, Europe, and the PRC, online shopping has continued to maintain a relatively high percentage since 2019. To improve sales volumes, fashion companies can combine the digital approach with greater human interaction to increase access by customers. For example, in 2020, several Chinese fashion brands sent their customers QR codes that would connect them with sales representatives on the phone, mimicking offline shopping experiences. Similarly, in Latin America, companies used WhatsApp to promote their brands by signing customers up to group chats (Lam and Chan 2020).
Table 1: Share of Online Fashion Sales, 2019–2021

Source: Orendorff and Dopsson (2022).
Another issue facing many fashion houses is supply chain disruption. The differences in the recovery speeds of the US, Japan, Western Europe, and the PRC have been large, as shown in Figure 2. The four regions have bounced back to pre-pandemic demand since Q1 2021. However, with large-scale worldwide travel restrictions, commodity exports have experienced challenges in production management, causing economic downturns in some economies and resulting in fewer purchases of fashion items while producing excess goods that very few can afford (Segran 2021).
Figure 2: Recovery in the Fashion Industry (% of fashion sales compared to 2019)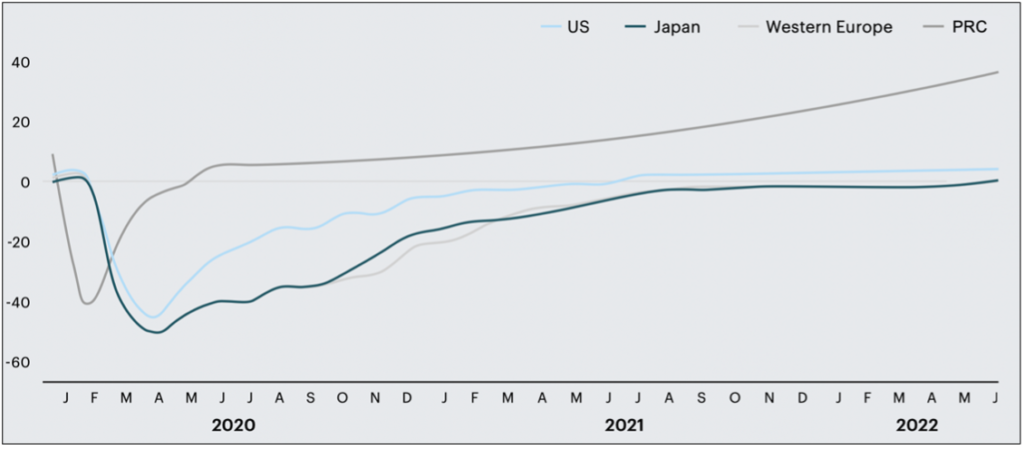 Source: McKinsey & Company (2021).
In response to this challenge of demand-supply mismatching, fashion brands should consider an on-demand production model and produce only the designs and amounts agreed upon with their customers. This model will improve business management and facilitate the transition to more ecological and financially sustainable production in the long run.
In summary, e-commerce and on-demand production can be effective post-COVID-19 strategies for the fashion industry, facilitating increased sales, reducing detrimental excesses, and promoting sustainable practices across multiple supply chains. SME fashion companies should leverage these strategies to reap the benefits and implement cost-efficient production. These SMEs are usually not obligated to store massive amounts of clothing, so they can be more flexible and responsive with their business decisions—two important traits for competing in the digital era. Finally, governments must ensure a smooth digital transition by introducing SME-friendly policies, such as technical and financial support, and collaborating with fashion brands to create a sustainable and long-term on-demand manufacturing model.
References
Anner, M. 2020. Abandoned? The Impact of Covid-19 on Workers and Businesses at the Bottom of Global Garment Sup­ply Chains. Penn State Center for Global Workers' Rights, 27 March.
Balchandani, A. 2021. What Tech Innovation Means for the Business of Fashion. McKinsey and Company, 2 December.
Gonzalo, A., H. Harreis, C. S. Altable, and C. Villepelet. 2020. The Fashion Industry's Digital Transformation: Now or Never. McKinsey & Company, 6 May.
Ishaque, M. 2019. RMG Industry Outlook 2019. Textile Focus, 9 September.
Lam, T., and T. Chan. 2020. Beyond COVID-19: How Asia's Retailers Can Navigate the Post-Pandemic New Normal. Fung Business Intelligence, May.
McKinsey & Company. 2021. State of Fashion 2021: An Uneven Recovery and New Frontiers. 1 December.
Orendorff, A., and E. Dopson. 2022. The State of the Ecommerce Fashion Industry: Statistics, Trends & Strategies to Use in 2022. ShopifyPlus, 18 February.
Segran, E. 2022. You Thought the Pandemic Killed Fast Fashion? Not Even Close. Fast Company, 22 October.
Teodoro, A., and L. Rodriguez. 2020. Textile and Garment Supply Chains in Times of COVID-19: Challenges for Developing Countries. United Nations Conference on Trade and Development, 29 May.